Orange Poppy Seed Cake with Mascarpone Frosting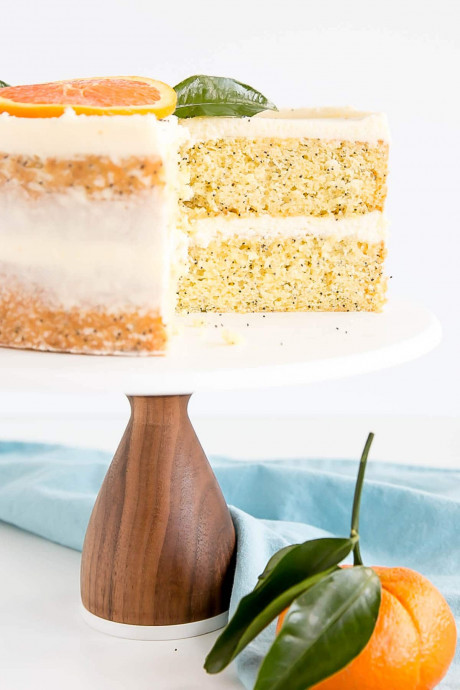 Tender Orange Poppy Seed Cake layers with a delicious mascarpone frosting. The perfect combination of three unique flavors.
Every time I make a cheese based frosting, I swear it will be my last. They are SO difficult to work with. I know I could make them more stable, but I'd have to either add more cheese or more sugar — neither of which I want to do. So I'm stuck with a delicious tasting but less stable frosting. It is what it is.
Honestly, the only reason I keep making them is because they taste so good. Not too cheesy, not too sweet, and they complement certain cakes just perfectly. Like this Orange Poppy Seed Cake!
This cake did not last long around here. I had to stop myself from inhaling an entire slice as I was cleaning the kitchen afterwards. Have I mentioned I have a weakness for citrus desserts?? I hope you love this cake recipe as much as I do!
Ingredients:
Orange Poppy Seed Cake:
2 1/4 cups all-purpose flour
2 1/4 tsp baking powder
1/2 tsp salt
2 Tbsp poppy seeds
3/4 cup unsalted butter room temperature
1 1/2 cup granulated sugar
1 1/2 Tbsp orange zest from 1-2 large oranges
3 large eggs room temperature
1 tsp vanilla
3/4 cup milk room temperature
1/4 cup orange juice fresh squeezed, from 1/2 a large orange
Orange Simple Syrup:
1/2 cup granulated sugar
1/2 cup orange juice fresh squeezed, from one large orange
Mascarpone Buttercream:
1 1/2 cups unsalted butter room temperature
8 oz mascarpone cheese softened but slightly chilled, 250g container
4 cups powdered sugar sifted
1 tsp vanilla
Assembly:
orange slices optional
orange leaves optional
poppy seeds optional