Baked Apple Pie Fries with Salted Caramel Dipping Sauce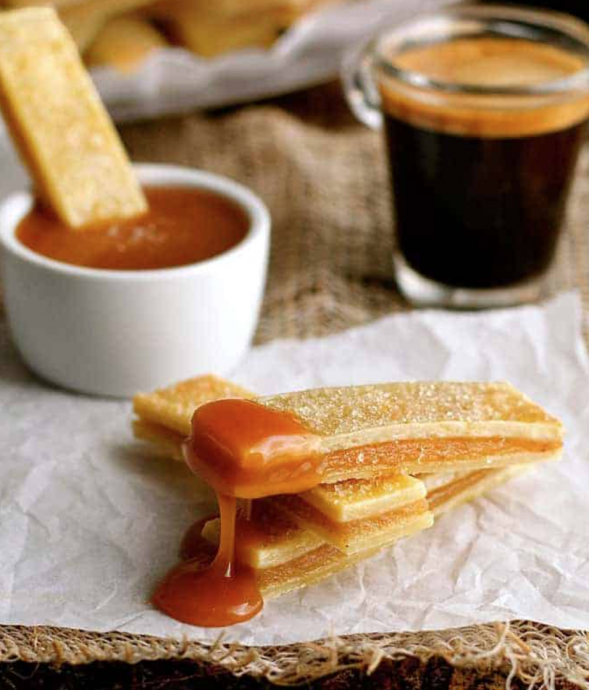 Fall apple desserts are some of my favorite creations. Apples and caramel go together like peanut butter and jelly. These super simple Apple Pie Fries make for a super fun spin on a traditional apple pie. These little babies are so yummy, they are easy to munch away on plain but honestly, having a Salted Caramel Dipping Sauce is a fabulous accompaniment.
Your favorite apple pie....as fries!! These are a great finger food dessert for casual entertaining. Using my tip to freeze the pastry after sandwiching it with the Apple Pie Filling, cutting them into perfect strips with plenty of filling in each piece is a breeze (otherwise it squirts out when you cut it!). Served with a super fast and simple salted caramel sauce. These cute little snacks are so easy to make and perfect for dipping. You can dip them in caramel sauce or even whipped cream for additional yumminess.
You can use any type of apples, like Fuji or Gala. Granny Smith is okay if you like tarter apples. Please note, that these apple fries are best enjoyed right away as they lose their crispness over time.
Ingredients:
1 1/4 cups canned Apple Pie Filling (increase to 1 3/4 cups if using US refrigerated pie crust) (Note 1)
3 tbsp sugar (your choice - white, brown, raw) (Note 2)
1/4 tsp cinnamon
2 sheets frozen shortcrust pastry (25cm/10" square) (do not thaw) OR 14 oz refrigerated pie crust (Note 1)
1 egg
2 tbsp sugar granules (or ordinary sugar) (optional - for sprinkling)
Oil spray
1 cup caster sugar
1/3 cup water
1/2 cup heavy cream (not whipped)
1/4 tsp salt
1 tbsp unsalted butter