Pistachio Poppy Seed Orange Yogurt Bread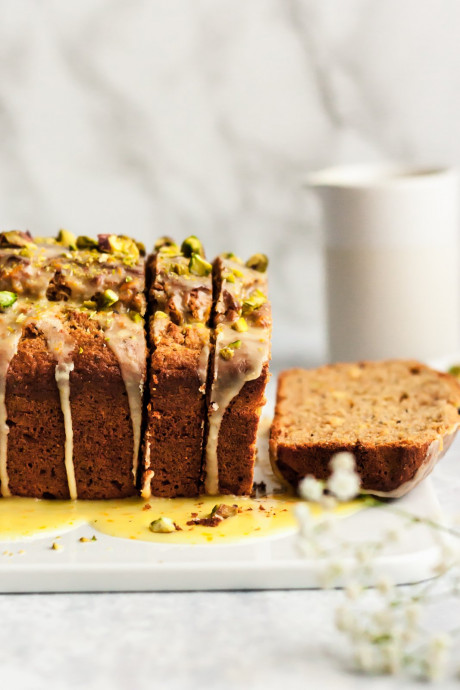 Gorgeous pistachio poppy seed orange yogurt bread naturally sweetened with honey and topped with a lovely orange glaze. This incredible orange loaf is filled with fresh orange juice and zest, and is the perfect bread for spring!
This easy and delicious orange yogurt bread uses simple ingredients but is perfectly moist and filled with orange flavor. Here's what you'll need to make it: Whole wheat pastry flour: I love using whole wheat pastry flour in baking because it's a little more nutritious than regular flour. This is the brand I use. Baking powder & baking soda: you need to use both in this recipe to make it nice and fluffy! Butter: I prefer to use butter in this recipe for both flavor and texture, but melted coconut oil would also work well. Yogurt: the most amazing part of this bread is the texture thanks to the yogurt. I recommend using whole milk plain greek yogurt because it adds additional moisture to the bread. It's delicious! Honey: I love using honey in baking; it's a great all natural unrefined sweetener. Eggs: two eggs are used in this recipe for a cake like texture. I haven't tried flax eggs but I think it might work. Extracts: use both vanilla extract and almond extract for a hint of unique flavor! Orange: make sure you use freshly squeezed orange juice and zest for amazing orange flavor. Poppy seeds: there's just something to love about the flavor poppy seeds bring to breads and muffins. Pistachios: I wanted to do something different so I decided to use pistachios in this bread. Please know that you can sub them out for toasted walnuts or pecans, or you can omit them completely.
Ingredients:
1/3 cup butter, melted (or sub melted and cooled coconut oil)
1/3 cup honey (use 1/2 cup if you like a sweeter bread)
zest from 1 large orange
1/2 cup freshly squeezed orange juice
1/2 cup plain or vanilla greek yogurt (i like to use whole milk yogurt but a dairy free yogurt will also work)
2 large eggs
1 teaspoon vanilla extract
1/2 teaspoon almond extract
Dry ingredients:
2 cups whole wheat pastry flour*
1 teaspoon baking powder
½ teaspoon baking soda
¼ teaspoon salt
1 tablespoon poppy seeds
Mix-ins:
1/2 cup chopped roasted pistachios
For the glaze:
½ cup powdered sugar
1 tablespoon fresh squeezed orange juice, plus a little more if necessary to thin the glaze
1 teaspoon orange zest
2 tablespoons chopped roasted pistachios