Sugar Free Desserts: Coconut Sweets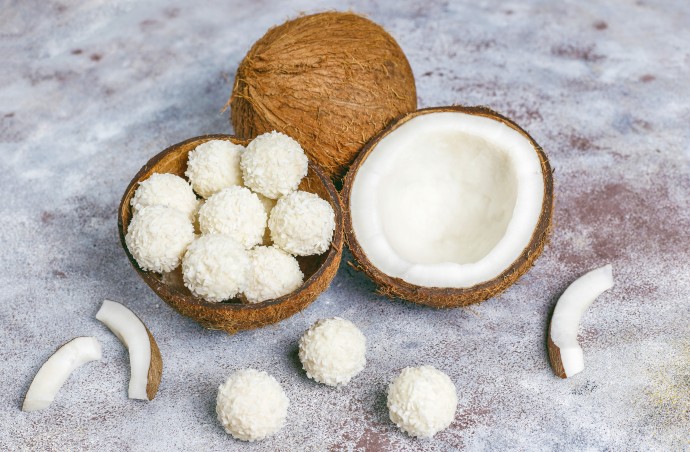 Easy and healthy no bake coconut sweets need just 4 ingredients and only 5 minutes to cook. Made with coconut and almond flour, these paleo protein packed bites will be a perfect snack! Enjoy with your favorite morning coffee. And be forewarned, these little white balls disappear quickly!
Ingredients
1 cup (0.24 l) blanched almond flour
3 cups (0.71 l) finely shredded unsweetened coconut (Tip! If you only do have coconut flakes and/or shredded coconut, simply blend them until a fine texture).
3/4 cup sticky sweetener of choice (I prefer a monk fruit sweetener, you can also use maple syrup, brown rise syrup, agave nectar or honey)
1/4 cup coconut milk (100% coconut milk)
Instructions
In a high-speed blender, food processor or mixing bowl, combine your ingredients and blend until a dough is formed. You may add extra coconut milk until a slightly sticky texture remains.
Using your hands, form into small balls. If desired, roll balls in extra shredded coconut.
Refrigerate for 30 minutes, or until firm.
Tips:
Don't worry if the balls are a little doughy, you may roll them in extra coconut flakes
In order to keep at room temperature, ensure they are covered in a sealed container. Coconut no bake bites are naturally dairy free, so don't need refrigeration.
Here we go! Simple and healthy!
Freezer friendly and kid-friendly. Bon Appétit!