Crispy Orange Beef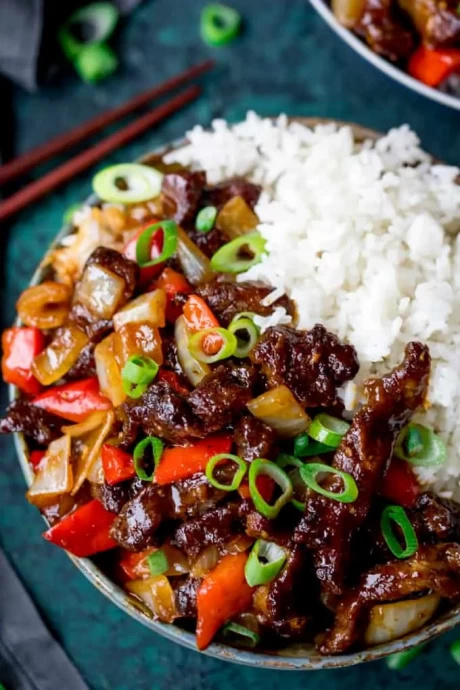 This Crispy Orange Beef is super easy to make and way better than take-out! Sticky-crispy-sweet crispy beef in orange sauce - so delicious and satisfying and ready in 25 minutes.
Have you ever tried crispy chilli beef? This recipe uses similar ingredients (soy sauce, garlic, sugar, ginger etc). However, replacing the lime juice with orange just adds such a great sweet-tangyness. Imagine deep-fried, crispy, golden brown and battered beef cubes doused in sticky, sweet, savory and tangy orange sauce.
It's incredibly fragrant with the primary flavor being orange, but also has sesame oil, jalapeno, garlic, and ginger too. Not to mention the irresistible texture of the thin and crispy slices of beef. This crispy Orange Beef tastes so much better than Chinese takeout. Since it's made fresh in your kitchen, there's no soggy beef, and it has tons of flavor. It's absolutely delicious and addictive, a dish that is our guilty pleasure at Chinese takeouts and restaurants all across the United States. Serve with steamed rice fried rice.
Ingredients:
3 tbsp vegetable oil
500 g beef steak - I use sirloin, chopped into strips*
2 tbsp cornflour/cornstarch - not cornmeal
pinch of salt and pepper
Juice of 2 large oranges
Zest of half an orange
3 tbsp caster sugar
5 tbsp soy sauce - make sure it's gluten-free soy sauce if you're gluten intolerant
2 cloves of garlic - peeled and crushed
1 thumb sized piece of ginger - peeled and finely chopped/grated
1 tsp rice vinegar
1 red pepper - sliced into chunks
1 large onion peeled and sliced into chunks
To Serve:
Boiled rice/fried rice
4 spring onions/scallions chopped on the diagonal