Magic Chocolate Éclair Cake (No-Bake!)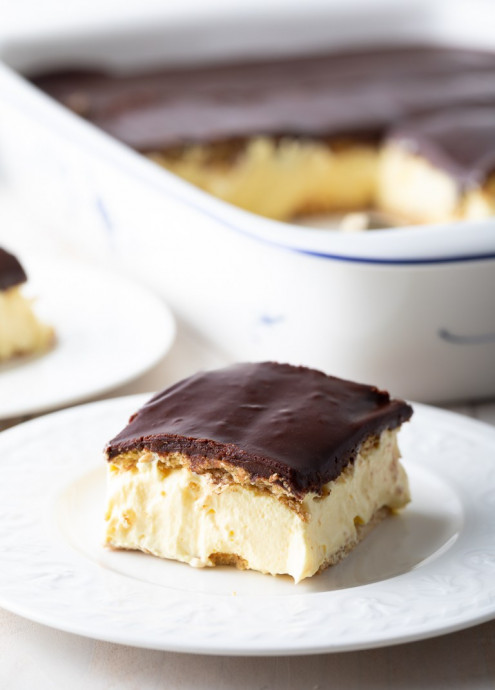 Magic Chocolate Éclair Cake Recipe (No-Bake!) – This easy layered dessert tastes just like a French éclair, but is made with graham crackers, French vanilla pudding, and a quick chocolate ganache to create a simple no-bake "cake!"
This easy no-bake treat is made with French vanilla pudding, graham crackers, and chocolate icing that mimics the flavors of classic French éclairs. The graham crackers absorb the moisture from the "pastry cream" layer, making them soft and cake-y. Every bite is like that perfect section of an éclair that's loaded with creaminess and thick chocolate ganache.
It takes very little time to put together the ingredients in this Éclair Cake recipe, and then it just sits in the fridge until chilled and ready to serve.
Not only is it simple to make, but a cool and rich no-bake chocolate éclair pudding cake is also a true crowd-pleaser! It's terrific to bring to a potluck or to serve to the family as a fun weekend dessert. And I can attest to the fact that it is an excellent twist on a classic birthday cake!
Ingredients:
10 ounce graham crackers about 2 sleeves
6.8 ounces instant French vanilla pudding mix (2 boxes)
2 ½ cups cold milk
8 ounce tub Cool Whip
12 ounce semisweet chocolate chips
1 ½ cups half & half
1 tablespoon corn syrup