Ricotta Meatballs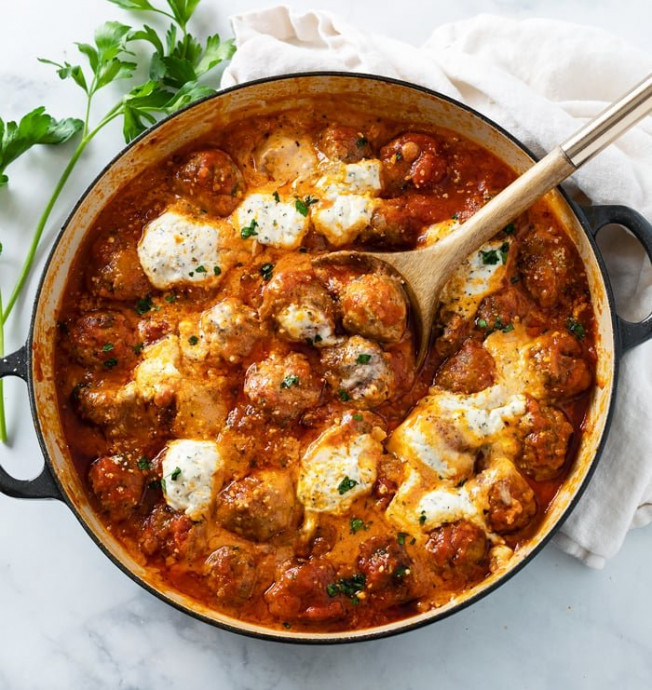 These Ricotta Meatballs are so tender and flavorful! Serve them in a sub roll, with pasta, or with a simple side salad. BONUS: They're easy to make on the Stove Top, Crock Pot, and can be oven baked 2 ways! They're also make-ahead and freezer friendly.
The combination of half and half and breadcrumbs creates the perfect panade which is further enhanced by 1 whisked egg, freshly grated Parmesan cheese, fresh parsley, simple seasonings, and of course, creamy herb ricotta. A panade is a mixture of starch and liquid that is combined to form a paste. It's mixed in with meat for meatballs, meatloaf, or burgers to preserve the tender texture of the meat.
When meat cooks, the proteins expand and contract and in doing so, moisture escapes. The starch in the panade turns to a gel when cooked and lubricates the fibers in the meat as it cooks
Ingredients:
32 oz. marinara sauce
½ cup olive oil, divided
Herb Ricotta
15 oz. Ricotta cheese
1 teaspoon dried basil
1 teaspoon dried oregano
1 teaspoons dried parsley
1 teaspoon minced garlic
Meatballs
1 yellow onion, finely diced
3 cloves garlic, minced
1 Egg, whisked
½ cup half and half, can sub cream
½ cup Italian breadcrumbs
½ cup Parmesan cheese
1/3 cup roughly chopped parsley, plus more to garnish
1 teaspoon Italian seasoning
1 teaspoon mustard powder
1 teaspoon Salt
½ teaspoon Pepper
1 lb. ground chuck, 80% lean
½ lb. ground pork, or ground sausage or veal.