Salmon in Roasted Pepper Sauce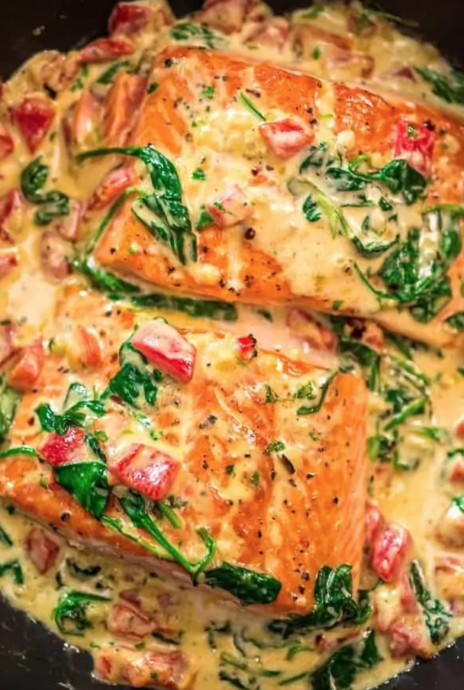 This Salmon in Roasted Pepper Sauce makes an absolutely scrumptious meal, worthy of a special occasion. Make this easy one-pan dinner in just 20 minutes!
I am so excited to share this deliciousness with you, guys! It's really, really, really TASTY. The best part is that this Salmon in Roasted Pepper Sauce doesn't require any fancy ingredients and won't take much of your time.
You'll need some roasted red peppers for this recipe. You can use store-bought, jarred roasted peppers, or roast the peppers yourself. Both options work well, so the choice is yours.
If you prefer to buy jarred roasted peppers, they are sold in all large grocery stores, usually located in the pickle aisle, or somewhere next to olives.
Ingredients:
2 salmon fillets skin on (about 1 lb.)
Salt and pepper to season
1 tbsp. olive oil
1 tbsp. butter
3 cloves garlic finely diced
4 oz. roasted red peppers diced
4 cups fresh baby spinach
½ cup Half & Half or heavy cream
¼ cup grated Parmesan cheese
¼ tsp. red pepper flakes or to taste
¼ cup chopped parsley
Salt and pepper to taste