Zebra Cake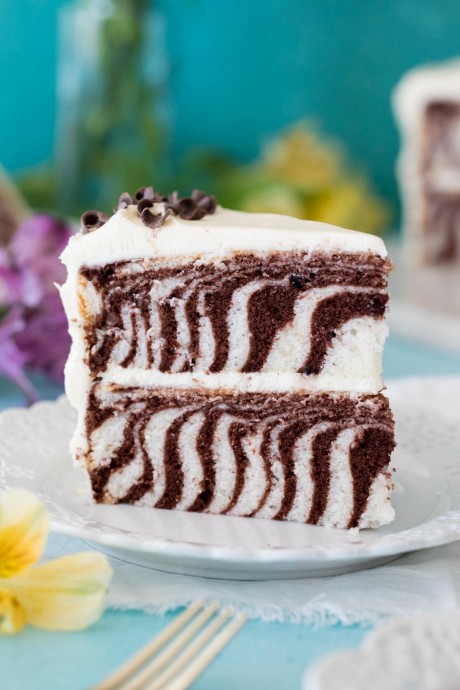 Zebra Cake makes a great addition to a kid's birthday party, especially if you're are doing animal-themed decorations. Once you slice into the cake, be prepared to have your young guests gasp with excitement over the cool swirls! The flavors of this cake are incredible — a delicate sponge cake is elevated with a nice balance of chocolate flavor peaking in.
With beautiful, bold, black-and-white Zebra stripes, this cake is a showstopper! While it may seem like getting those beautiful black and white stripes might be impossible, the technique is surprisingly simple.
Store in an airtight container. At room temperature it will keep for 1-2 days or it may be refrigerated for up to a week (just keep in mind the fridge is liable to dry out your cake). Zebra cake (frosted or unfrosted) may also be frozen and will keep for 2-3 months in the freezer.
Zebra Cake is moist, delicious and comes together so effortlessly. It is the perfect cake for kids, but let's be real — adults love it too!
Ingredients:
2 ¾ cup cake flour (315g)
2 cups granulated sugar (400g)
1 Tablespoon baking powder
1 teaspoon salt
6 Tablespoons unsalted butter softened to room temperature (85g)
2/3 cup canola oil or vegetable oil
3/4 cup whole milk room temperature preferred (175ml)
1/2 cup sour cream (120g)
1 Tablespoon clear vanilla extract
6 large or extra large egg whites room temperature preferred (see note for suggestions on recipes to try with leftover egg yolks).
For the Chocolate Layer
1/4 cup dark cocoa powder 25g
2 Tablespoons very hot or boiling water
2 Tablespoons sour cream this is additional from the sour cream listed above
2 Tablespoons granulated sugar this is additional from the sugar listed above
1 batch White Chocolate Frosting (or preferred frosting, see other great alternative icings listed in the post)