Quinoa Enchilada Bake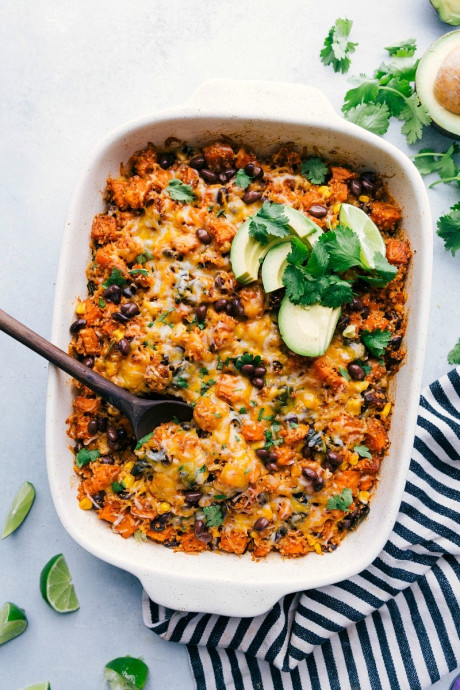 A delicious sweet potato, black bean, and corn Quinoa Enchilada Bake is a nutrition-loaded casserole the whole family will love. While this dish is vegetarian, you won't miss the meat in this protein-loaded nutritious dinner!
Quinoa (pronounced KEEN-wah) is a super-healthy grain with significant protein. It cooks quickly, too. The only thing to watch out for is this: Quinoa has a natural coating called saponin which can make it taste bitter. Before cooking it, rinse the quinoa in a fine-mesh strainer for 30 seconds to one minute. Saponin helps protect the quinoa plant from pests (because the bitter taste discourages bugs from eating it), so it's a good thing, but we don't want that bitterness in our quinoa dishes.To make Quinoa Enchilada Bake vegan: Simply omit the cheese or use a vegan cheese! Since a lot of flavor does come from the cheese, if you're leaving it out, make sure you have plenty of toppings! To make this meal dairy free: Omit the cheese and make sure to add plenty of toppings! To make this meal gluten free: Ensure the enchilada sauce you're using is gluten free, as well as any other canned products.
Ingredients:
1 and 1/2 pounds (2 medium; 5 cups) sweet potatoes chopped into small bite-sized pieces
1 red pepper chopped
1 small yellow onion thinly sliced
2 tablespoons olive oil
1 teaspoon ground cumin
1/2 teaspoon garlic powder
3 teaspoons chili powder separated
1 cup uncooked white quinoa drained and rinsed
2 cups vegetable stock/broth OR water
2 tablespoons freshly squeezed lime juice
1 can (15 ounces) fire-roasted corn drained
1 can (15 ounces) black beans drained and rinsed
1 can (10 ounces) mild red enchilada sauce (homemade or store-bought - Note 1)
1/4 cup chopped cilantro
1 and 1/2 cups sharp Cheddar cheese divided (Note 2)
Toppings: chopped avocado, sour cream, tortilla chips, additional lime and cilantro
Fine sea salt and freshly cracked pepper