Big Mac In A Bowl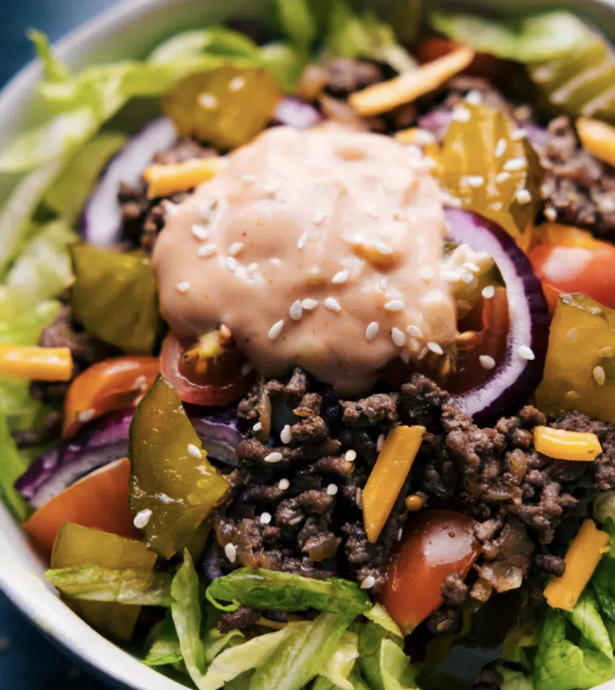 Big Mac In A Bowl is a fun, low-carb way to enjoy all the flavors of a classic hamburger, without the bun! This is a great keto-friendly meal and a fantastic make-ahead/meal prep option.
We like to start with making the sauce so the flavors have a chance to meld. The sauce does well being made ahead of time, so you could prepare it another day or earlier in the day to make dinner prep come together that much quicker! Here's a quick breakdown of the ingredients:
Mayonnaise: I highly recommend real, full-fat mayo. Skip the salad dressing or low-fat varieties for the best creamy and delicious sauce. Hellmann's/Best Foods® is my favorite brand.
Ketchup: Ketchup adds so much flavor, so make sure to use a good brand. Cheaper ketchup brands can make the sauce more acidic or sour; I highly recommend Heinz® Tomato Ketchup for this sauce.
Pickle relish: This is a seemingly strange ingredient, but we absolutely love the tang this relish adds to the sauce. If you aren't a fan of pickles, I'd recommend adding in a splash of vinegar or some lemon juice.
Grated onion: Grate part of the onion (we'll use the rest in the beef) on a cheese grater. Grated onion gives the sauce the best possible taste and texture while ensuring all the great flavor is evenly dispersed throughout the sauce. These burger bowls are divided into two components: the cooked ground beef and all the bowl toppings (the veggies you'd see on a burger, but diced or chopped in bowl form).
Beef: We recommend using lean ground beef (93/7) and browning it with a few other ingredients. The sautéed onion, salt, pepper, beef bouillon powder, and Worcestershire sauce all add a wonderful depth of flavor without being overpowering. The Worcestershire sauce adds a nice umami flavor and saltiness and the bouillon intensifies the beefy flavor of the meat.
Ingredients:
1 large yellow onion, divided
1 tablespoon olive oil
1 pound (16 oz.) lean (93/7) ground beef
Fine sea salt & pepper
1 teaspoon garlic powder
1/2 teaspoon beef bouillon powder, optional
1 tablespoon Worcestershire sauce
16 ounces shredded iceberg lettuce
Toppings: grated sharp Cheddar cheese, diced dill pickles, halved cherry tomatoes, thinly sliced red onions, white sesame seeds (optional)
Sauce
1/2 cup (109g) mayonnaise
2 tablespoons (33g) ketchup
1 tablespoon (21g) sweet pickle relish
1 teaspoon adobo sauce from canned chipotle chiles in adobo