BBQ Chicken Salad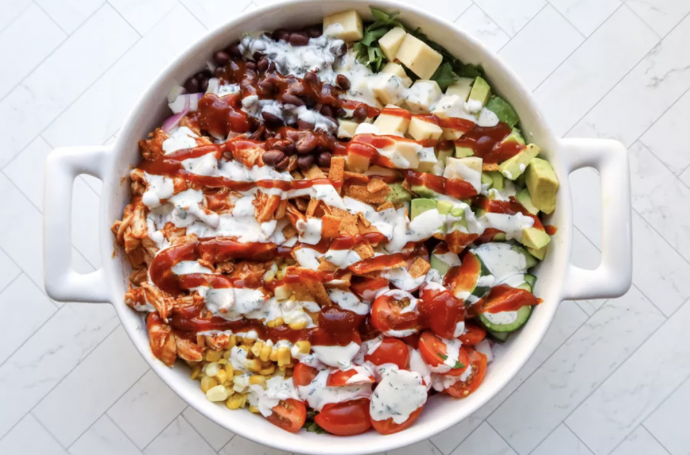 This BBQ chicken salad is a satisfying whole meal salad that is perfect for any day of the week. It's an excellent salad to take along to a cookout or potluck as well. This salad is a great choice for the warm weather and it's versatile because if there's an ingredient someone doesn't like, then you can omit it or replace it with something else.
The recipe includes a homemade cilantro and lime ranch-style dressing with freshly poached chicken breasts, but feel free to use a store-bought rotisserie chicken and bottled dressing if you're short on time. For a dynamite presentation, drizzle some of the dressing and barbecue sauce over the salad just before serving.
You can also prepare the dressing and chicken the day before—all you have to do to serve is simply chop a few vegetables and assemble the salad.
Ingredients
For the Chicken:
1 pound boneless chicken breasts
1 small onion, quartered
3 medium garlic cloves, crushed
1 large bay leaf
1 teaspoon chili powder
3/4 teaspoon kosher salt
1/2 teaspoon oregano
3/4 cup barbecue sauce (your favorite, plus more for serving)
For the Cilantro-Lime Ranch Dressing:
1/2 cup mayonnaise
1/2 cup sour cream
1/2 cup milk (or as needed to thin)
1/4 cup chopped cilantro
3 tablespoons lime juice
1 teaspoon garlic powder
3/4 teaspoon onion powder
1/4 teaspoon ground black pepper
1/4 teaspoon kosher salt, or to taste
For the Salad:
6 to 8 cups torn lettuce
1 1/2 cups black beans, drained and rinsed
1 1/2 cups grape tomatoes, halved
1 1/2 cups corn kernels (canned or frozen and cooked)
1 medium cucumber, halved lengthwise and sliced into half-moons
3/4 cup diced red onion
1 1/2 cups corn chips (or tortilla strips)
4 ounces diced pepper jack cheese (or cheddar or Monterey Jack)
1 medium avocado, sliced or diced
1/2 cup coarsely chopped cilantro