The Best Vegan Tacos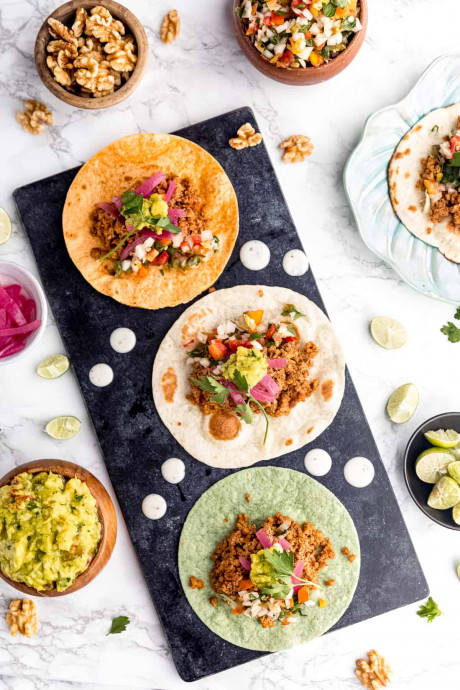 Vegan Tacos are flavor-packed and so filling! Made with ground walnut meat, creamy guacamole, and tangy salsa, you will not be able to get enough of these homemade tacos!
This recipe may not be the first thing you think of when you hear the words 'Taco Tuesday,' but it should be. These Vegan Tacos are just as good as classic ground beef or black bean tacos!
The ground walnut meat is crumbly, juicy, and tender, and it's so easy to season with your favorite flavors. I usually like to go a little spicy with mine, and add some paprika and chipotle powder. But, I also like to add a little sweetness with some brown sugar!
Needless to say, homemade vegan tacos are a delight for the tastebuds. The texture is out-of-this-world too, though! Corn (or flour) tortillas are crisped up in a pan, piled high with walnut meat, and then topped with pickled onions, creamy guacamole, and homemade salsa. Yum!
Ingredients:
For the Walnut Meat
2 cups raw walnuts soaked in boiling water for 30 minutes, or overnight, then drained
1 ½ tbsp oil
4 tbsp water
1 tsp onion powder
1 tsp garlic powder
2 tbsp soy sauce
½ tsp chipotle powder or chili powder
½ tsp paprika
½ tsp cumin
¼ tsp sea salt
¼ tsp ground black pepper
1 tsp brown sugar or coconut sugar or cane sugar or any kind of sugar
For the Tacos
1 cup salsa or pico de gallo, homemade or store-bought
1 cup guacamole homemade or store-bought
pickled onions
½ cup lime crema or vegan sour cream or spicy mayo or your sauce of choice, plus the juice of a lime