Carrot Birthday Cake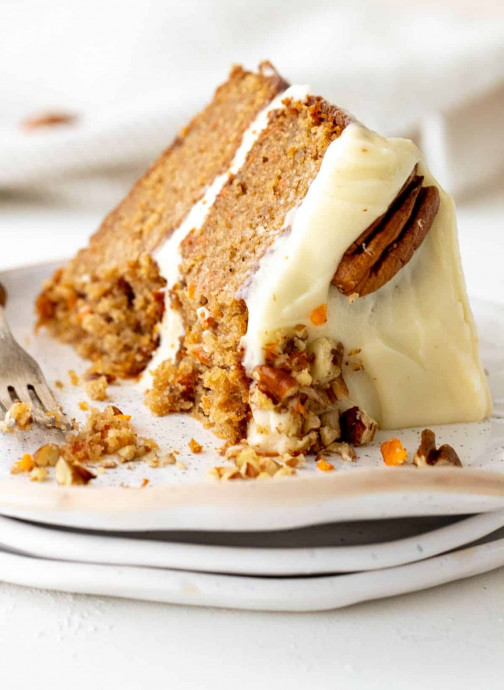 This is truly a celebration carrot cake, with a very moist crumb and spiced flavor. Filled and frosted with cream cheese, both the cake layers and the frosting can be made ahead. Whether you bake it in round pans, cupcakes, a tube, or a loaf pan, it's a certain crowd-pleaser. A variation with nuts and maple syrup is added at the end of this post.
This recipe today is a favorite cake for birthdays around here that gets made often.
Very moist, it has an apple in the batter that adds moisture as well as some sharpness and sweetness.
Make it any shape you want – in a tube pan, round layers, sheet cake, cupcakes, loaves – it's very adaptable. This cake seems much more laborious than it is.
Mixing: the best way is to use a stand mixer with the paddle attachment or an electric mixer with a large bowl because it's a dense cake and a pretty large amount of cake batter.
Sifted dry ingredients: don't skip this step, especially when you use baking soda which might sometimes clump together during storage, and will not dissolve during baking.
Carrots and apple: they are both an integral part of this cake recipe, of course, and don't be tempted to grate them with a fine-holed grater as they tend to release too much liquid and the texture will not be the right one. Use a coarse grater (large holes) or a food processor to shred them.
Baking the cake: the best way to make layer cakes is baking each layer in a separate pan. They will bake quicker and more evenly. See how many pans your oven holds and stick to that. Mine for example holds two 8 or 9-inch round pans or three 7-inch pans.
Ingredients:
For the carrot cake:
2 ½ cups all-purpose flour
1 teaspoon baking powder
1 teaspoon baking soda
Pinch of salt
1 teaspoon ground cinnamon
½ teaspoon ground ginger
¼ teaspoon ground allspice or nutmeg
Pinch of ground cloves
1 ½ cups (330g) unsalted butter, at room temperature
1 cup firmly packed brown sugar
1 cup of white, granulated sugar
3 large eggs, at room temperature
1 teaspoons vanilla extract
½ cup milk, at room temperature
1 ½ cups peeled, grated or shredded carrots, about 6oz (see Notes below)
1 apple, peeled, cored, and finely chopped or coarsely grated (see Notes below)
For the cream cheese frosting:
1 cup (8oz) cream cheese, softened
½ cup (110g) unsalted butter, softened
3 cups powdered sugar (or more if needed)
Whole and chopped pecans and grated orange peel, for decoration