Cheesy Chicken Broccoli Pasta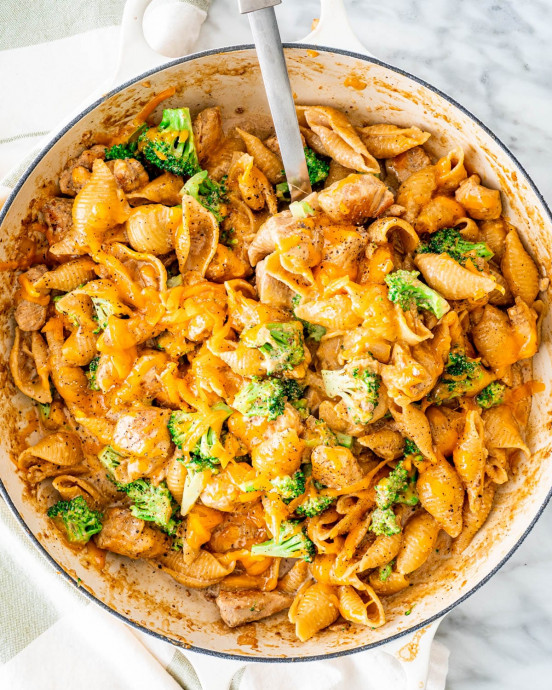 This Cheesy Chicken Broccoli Pasta is a dish that is packed with cheesy, rich flavor, loaded with chicken and broccoli. It's prepared all in the same pot to ensure each bite is tasty and easy to whip up in a flash! One pot and only 30 minutes is all you require to make this incredibly delicious dish!I think that pasta is such a good base for many a dish. Especially when you make it all in one pot. It really allows for flavor to develop and for the dish to become cohesive. I was inspired to make this Cheesy Chicken Broccoli Pasta recipe tonight after a very long day at work. I wanted something easy and tasty but wouldn't require much work. So this dish delivered that in spades! It's packed with tons of cheesy, rich flavor.
One Pot Pasta
We're used to boiling our pasta separately, in one pot full of salted water before incorporating it into our dish of choice. But today we're going to cook our pasta right in with our broth, added to our skillet once the chicken is done cooking. Our softened onion and garlic will cook right alongside the pasta to ensure that each bite is flavorful! I've added some broccoli for some greenery but feel free to get creative with your veggie additions!
Ingredients:
1 tablespoon olive oil
1 pound chicken breasts boneless and skinless cut into small bite size pieces
½ teaspoon salt or to taste
½ teaspoon pepper or to taste
1 medium onion chopped
4 cloves garlic minced
8 ounce pasta uncooked, such as penne, shells, rigatoni, etc.
1 cup chicken broth low sodium
2 cups milk
2 cup broccoli cut into small florets, 1 head of broccoli
¼ teaspoon nutmeg
2 cups cheddar cheese shredded