Ridiculously Easy Salted Caramel Shortbread Bites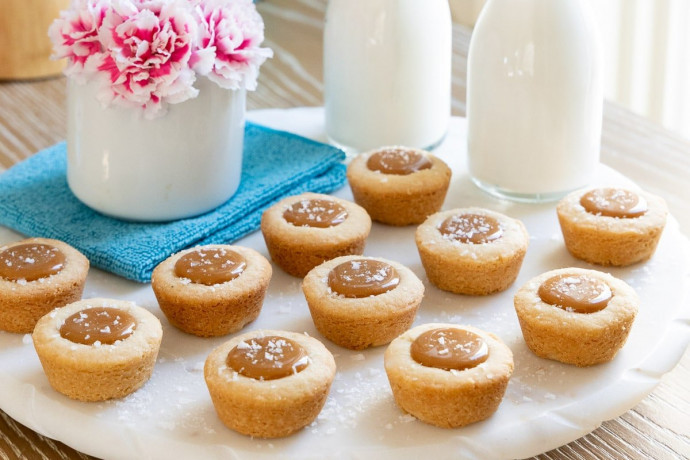 Calling all shortbread lovers! If you're a fan of shortbread and enjoy soft, buttery caramels, these Salted Caramel Shortbread Bites have your name written all over them. Throw in the fact that they're ridiculously simple to make with a one-bowl, no mixer shortbread crust and the easiest caramel filling ever, well... I think hear them shouting your name (and mine)!
Flaky sea salt has become very popular in the past 20 years with chefs all over the world and is used as a finishing salt. A finishing salt is just what it sounds like, a salt used at the end of food preparation to bring out the flavor add a delicious "finishing touch".
The secret? Good quality, store-bought soft caramels. All you do is unwrap them (or have someone you can trust unwrap them!) and combine them with a splash of heavy cream in a small saucepan. Warm over low heat until nicely melted then stir until smooth. Spoon the caramel sauce into the cooled shells. That's it, see what I mean. Easy, ridiculously easy!
Ingredients:
For the shortbread shells:
8 ounces very soft butter (2 sticks) I use salted butter
1 cup powdered sugar
2 teaspoons vanilla extract
¼ cup corn starch
1 ¾ cups all purpose flour
¼ teaspoon salt
For the caramel filling:
10-12 ounces soft caramels I use Werther's soft caramels
1 tablespoon heavy cream or half and half