Marinated Vegetarian Pasta Salad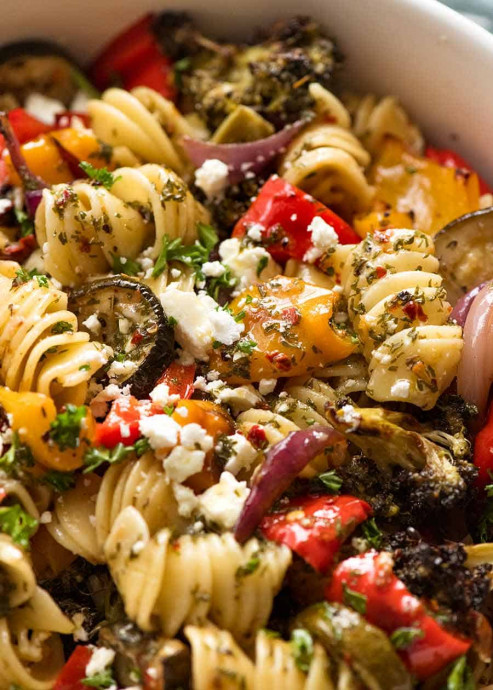 How do you make a Vegetarian Pasta Salad so fabulous that even this self confessed carnivore can't get enough of it? MARINATE the vegetables! This big, fat pasta salad recipe is a standout – it's juicy, it's flavour loaded and it looks as amazing as it tastes! Excellent summer food that lasts for days. Who would've thought those random veggies you've got left in the bottom of your fridge could be transformed into something as incredible as this Vegetarian Pasta Salad??
Forget limp, bland veggies sitting sadly amongst tasteless, soggy pasta. THIS cold pasta salad is the polar opposite of that. It's vibrant, it's flavour loaded, it's JUICY, and will make even green-haters scoff down a weeks' worth of veggies in one sitting!The beauty of this Vegetarian Pasta Salad recipe is this – there are no rules. You can literally put any roastable/grillable veggie in this – and it's going to be amazing.
Oh wait. That was a grand statement that sounded really good but I realised was a bit untrue. I think potato might be a bit odd. While the notion of carb-on-carb is not something that has passed me by over the years (potato pizza, anyone??), I don't think it will quite work here.
But that's the only exception!
Ingredients:
400g / 14oz curly pasta , dried (or other of choice)
1/4 cup parsley , roughly chopped (or chives)
120g / 4oz feta , crumbled into big chunks
VEGETABLES
2 capsicum/bell peppers (1 red, 1 yellow), cut into 2.5cm / 1" pieces
1 red onion , cut into wedges
1 eggplant , halved lengthwise, then 1.25cm/ 0.5″ thick semi circles
2 zucchini , cut into 1.5cm / 2/3" chunks (see video)
200g/ 7oz button mushrooms , halved (large ones quartered)
1 bunch asparagus , ends trimmed, cut into 5cm/2" lengths
ROASTING:
1/4 cup (65ml) extra virgin olive oil
1 tsp each salt and pepper
3 cloves garlic , minced
MARINADE / DRESSING:
1/3 cup (85ml) lemon juice
1/3 cup (85ml) extra virgin olive oil
2 tsp white sugar
2 garlic cloves , minced
1/2 tsp each salt and pepper
1/2 tsp each dried basil, parsley, oregano, thyme
1/2 – 1 tsp chilli flakes (adjust spice to taste)