Avocado Chicken Salad Sandwiches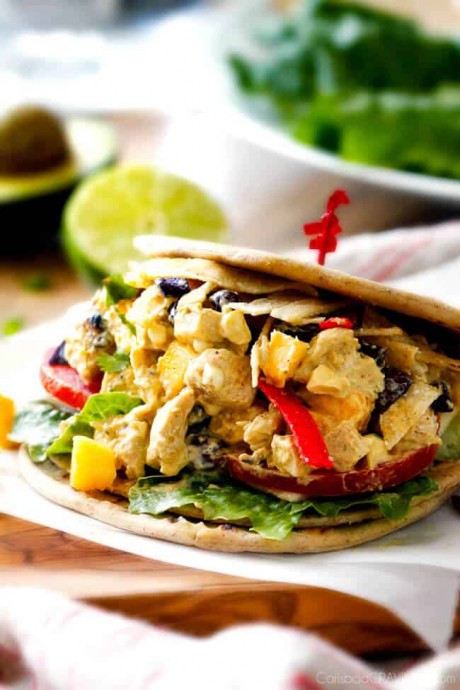 This Avocado Chicken Salad Sandwiches recipe is my favorite way to use leftover chicken! It is quick, easy, creamy, flavorful, and refreshing! This Avocado Chicken Salad is made with chicken, mangos, corn, and black beans enveloped in a tantalizing blender avocado dressing spiked with robust Mexican spices. You can eat the Avocado Chicken Salad alone, or make lettuce wraps, tortilla wraps, sandwiches, on toast, or my favorite way is cocooned in Flatout Foldits Flatbreads! The Avocado Chicken Salad Sandwiches are the perfect lunch, light dinner or for any day on the go!
There seems to be as many variations of chicken salad as there are constellations – from chicken salad with grapes, cranberries, apples, almonds, onions, olives, herbs, etc. to full mayo versions, to Greek yogurt versions to now this Avocado version! But I'm fairly certain this Avocado Chicken Salad version is going to be your favorite yet! The dressing for the Avocado Chicken Salad Sandwiches is so lusciously creamy, you won't believe it's healthy! It is a fabulous dressing you can also use on green salads too!If you're looking for a healthy yet deeply satisfying meal, look no further than Avocado Chicken Salad! The filling ingredients are packed with nutrition and the star avocado is a nutritious powerhouse.
Ingredients:
2 cups chopped cooked chicken
2 tablespoons chopped red onion
1/3 cup sweet corn cut fresh from the cob
1/3 cup black beans, rinsed and drained
1-2 mangoes, chopped
1 medium avocado
1 avocado peeled and pitted
1/3 cup Greek yogurt or sour cream
3 tablespoons mayonnaise
1 tablespoon lime juice
1/4 cup loosely packed cilantro leaves and stems
1 garlic clove, peeled
1 small jalapeno, seeds removed and roughly chopped
1/2 tsp each ground cumin, chili pwdr, smoked paprika, salt
1/4 teaspoon pepper
5 Flatout Foldits Flatbreads
5 slices Monterrey or Pepper Jack Cheese
Chopped tomatoes
chopped lettuce
tortilla strips
bacon (optional)
Freshly squeezed lime juice