Slow Cooker Mushroom Wild Rice Soup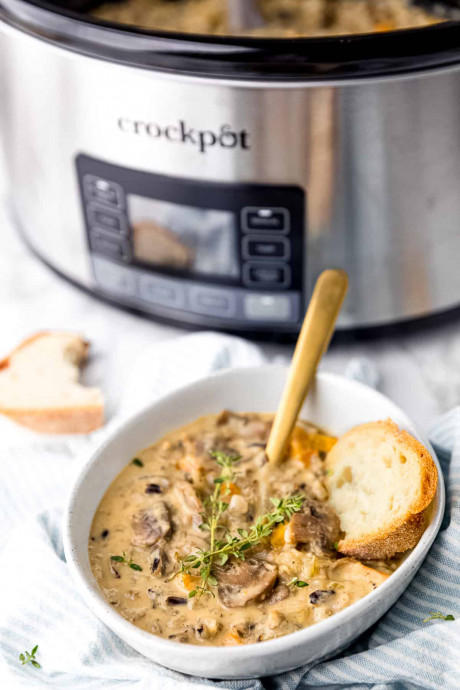 This Mushroom Wild Rice Soup is easily prepped in your slow cooker in only 15 minutes! The flavours meld together perfectly, it makes 8 servings for great meal prep and cleanup is a breeze!
f you're someone who actually preps their dinner way in advance in the day (teach me your ways), you set what time you want to have dinner and your Crockpot™ does the rest. Or maybe you're on my side, and almost always reach for the "HIGH" setting since you want dinner done within the next few hours. Either way, it adjusts for you.
I also love the pre-set options for soup and veggies, and that you can still use manual mode. It's all a win-win. Wild rice – ensure that you're using only wild rice, and not a wild rice blend (with other types of rice in it). The different types of rice in the blend will get soggy!
Mushrooms – You can use any variety of mushrooms you love. I used baby Bella cause they're the easiest to find, but you can use cremini, shiitake, portobello, oyster mushrooms…any kind! Feel free to use a mix.
Vegetable broth – If you want to keep the colour of your soup light, opt for a more yellow or cream coloured vegetable broth.
Ingredients:
2 medium carrots, finely diced
3 stalks celery, bottoms removed, finely diced
1 large onion, finely diced
4 cloves garlic, minced
8 ounces mushrooms, sliced
1/2 cup wild rice, uncooked
1 teaspoon dried oregano
1 tablespoon fresh thyme
sea salt and black pepper to taste, (depends on saltiness of your vegetable broth)
4 1/2 cups to 5 cups vegetable broth
2 tablespoons vegan butter, softened
2 tablespoons flour, any flour works including gluten-free
1 cup coconut milk, or almond milk or cashew milk
crusty bread to serve with