Best Strawberry Pretzel Salad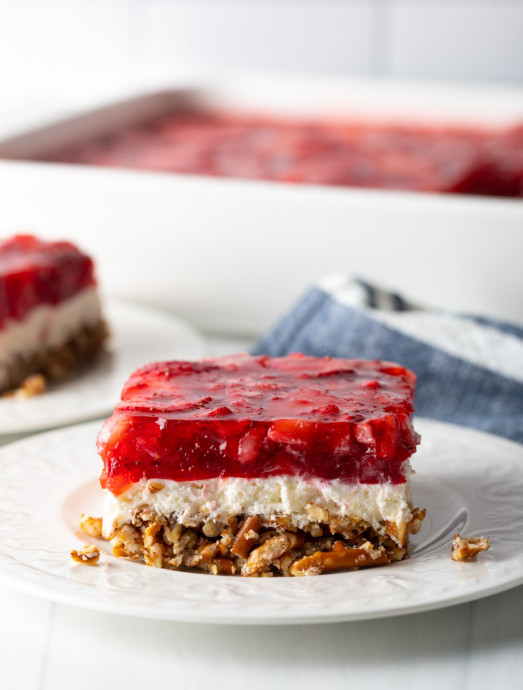 Strawberry Pretzel Dessert Salad – This sweet "salad" features layers of strawberry jello, fresh berries, cream cheese fluff, and crunchy pretzels. It's a classic southern treat that's perfect for potlucks and dinner parties!
Have you ever heard of strawberry pretzel salad? I hadn't until a few years ago, and my life has not been the same since.
This is a retro recipe my sister-in-law introduced me to. She first described it to me as a salad, but then served it as dessert… Mind. Blown.
Only true southerners can call recipes made with jello and cool whip a "salad." And I am here for it! The weird and wonderful combination of fresh strawberries, jello, and cream cheese fluff all layered on a salty pretzel crust is hard to resist. It's classic to serve as an after-dinner treat or a potluck or holiday side dish – so, yeah, this dessert salad really is fabulous with any course.
While old-school jello desserts have been around for a while, we decided to doctor the recipe a bit to make it, well, even better. Here we add pecans to the crust and prepare the fresh strawberries in a way that fills in all the jello-y cracks. That way, the jello holds the berries together, without taking over as the main component.
We are sure you'll agree that this version is a real winner. Make the strawberry pretzel salad a day ahead in less than 45 minutes, and serve it chilled for a deliciously fun whenever dish!
Ingredients:
6 ounces strawberry jello mix
2 cups boiling water
2 cups crushed pretzel pieces any shape
½ cup finely chopped pecans
½ cup melted butter
¾ cup granulated sugar + 1 tb, divided
8 ounces cream cheese softened
8 ounces whipped topping like Cool Whip
1 ½ pounds fresh strawberries hulled and sliced thin