Thai Shrimp Salad (Shrimp Yum Goong)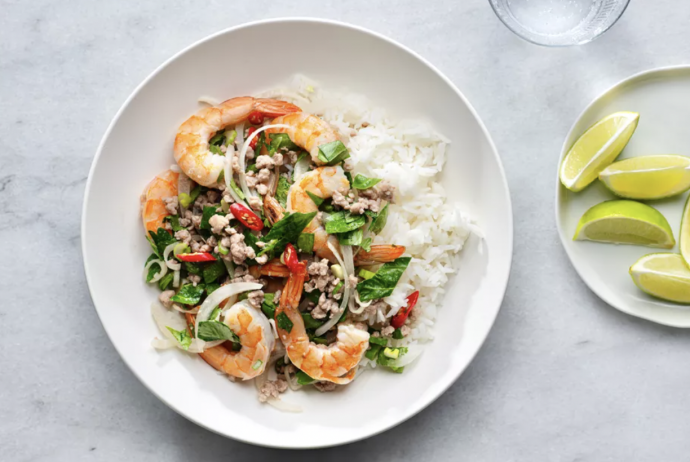 Thai shrimp salad—also known as Shrimp Yum Goong—is a refreshing dish that can be made quickly and easily. There are many varieties to these kinds of salads, but the herbs, aromatics, and dressing stay the same. The proteins in these salads are usually seafood and pork. Feel free to add vermicelli noodles to this dish as it adds more body to this salad and absorbs all the juices and dressing of the sauce very well.
The flavors that make Thai salads are spicy, sour, sweet, and salty. You can adjust the flavors to your liking. The fresh herbs give this dish its bright and delicious flavors. Try this easy recipe for a light and healthy lunch or dinner.
Ingredients:
8 to 10 shrimp
4 ounces pork, minced
3 to 4 sprigs cilantro, chopped
3 spring onions, chopped
1/2 onion, sliced
1/2 cup chopped celery leaves
2 to 3 bird's eye chiles
1 tablespoon fish sauce
1 tablespoon lime juice
1/2 teaspoon sugar
Thai jasmine rice, for serving, optional