Scrapple Recipe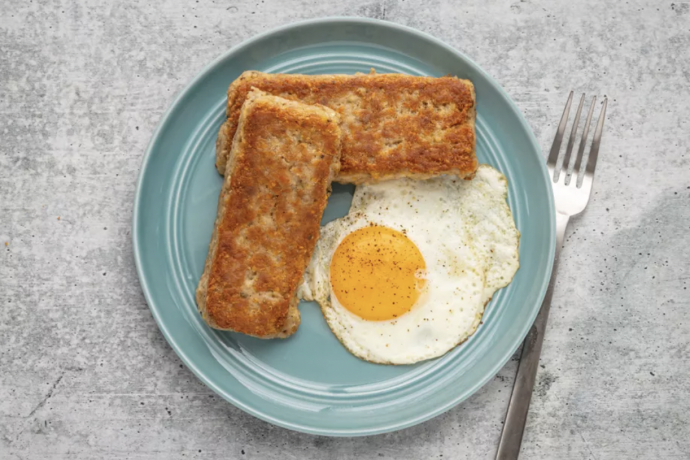 Scrapple, a traditional Pennsylvania Dutch food, is typically made with pork scraps or parts you might otherwise discard, such as trotters, liver, or heart. Some recipes use the head of the animal. This version uses easy-to-find cuts of pork—a combination of pork butt and bone-in pork shanks, hocks, or rib tips. Tender, long-cooked pork is finely chopped in a food processor or meat grinder, and the cornmeal cooks in the savory herbed broth. The pork, cornmeal mixture, and seasonings come together to form a tasty loaf with a sausage-like flavor.
There are several steps and long cooking and chilling times, but preparation is not complicated. You may plan to make the scrapple in one day or divide it up and make it over two days. The cooked shredded pork and broth can be refrigerated in separate containers until the next day.
Cut the chilled loaf into 3/4-inch slices, dust with flour, and fry it up for a tasty breakfast or lunch. It's a delicious protein to serve with eggs, hash browns, pancakes, or baked beans. Add a bit of ketchup or applesauce on the side, or drizzle the scrapple with maple syrup.
Ingredients:
For Scrapple:
3 pounds boneless pork butt, or about 5 pounds bone-in
2 pounds bone-in pork, such as rib tips, pork hocks, or shanks
1 large onion, peeled and quartered
1 whole bulb garlic, sliced in half crosswise
5 large dried bay leaves
1 1/2 tablespoons black peppercorns
2 teaspoons fine salt, plus more, to taste
12 large sage leaves
2 sprigs thyme
1/2 teaspoon dried oregano, or marjoram
1 cup cornmeal
1/2 teaspoon ground black pepper, or to taste
For Serving:
2 tablespoons vegetable oil
1/2 cup all-purpose flour, optional