Warm Lemon Pudding Cake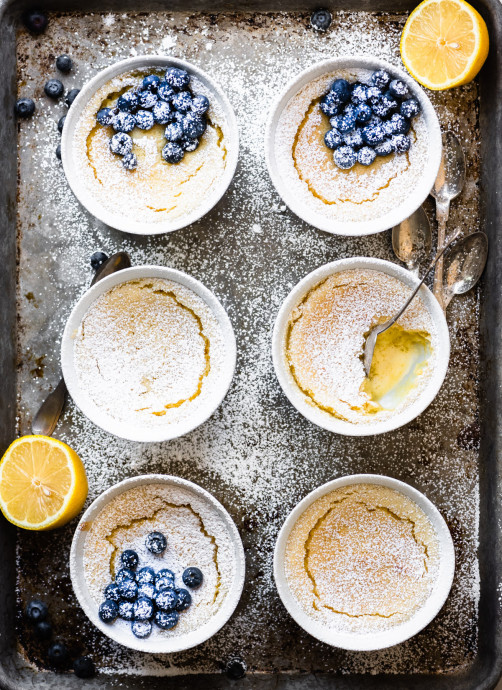 My Flourless Warm Lemon Pudding Cake is downright magical ~ it's an easy self-saucing lemon sponge cake dessert that bakes up with a fluffy cake layer and a tangy pudding layer. Don't miss this unique recipe!
Lemon is king here. I can't think of any ingredient that features more prominently in my recipes. There is always a big old bowl of them on the counter, and I never leave a supermarket without a fresh supply (stray lemon halves and wedges are never more than an arm's length away!) I use lemons to make salads, salad dressings, soups, salmon, shrimp, and pasta, but one of my favorite ways to use tangy lemon is in desserts.
Is it a cake? A pudding? A soufflé? Warm lemon pudding cake, aka lemon delicious pudding, lemon lava cake, lemon magic cake, or self-saucing lemon cake, is a homey dessert that's actually been around for a long time. This lemon pudding is made with beaten egg whites folded into the batter so that it bakes up like a fluffy sponge or soufflé. The light egg white layer rises to the top while the thin custard layer magically forms a tart lemon 'pudding' at the bottom.
Ingredients:
1 cup granulated sugar
2 Tbsp unsalted butter at room temperature
3 large eggs, separated
1 heaping Tbsp lemon zest from 2 lemons
1/4 cup all purpose flour (for gluten free use almond flour)
pinch salt
1 cup cultured buttermilk, shake before measuring
1/2 cup fresh squeezed lemon juice
1/4 tsp cream of tartar, this helps stabilize the egg whites
garnish
powdered sugar
berries, optional