Love Real Food Buckwheat and Spelt Crepes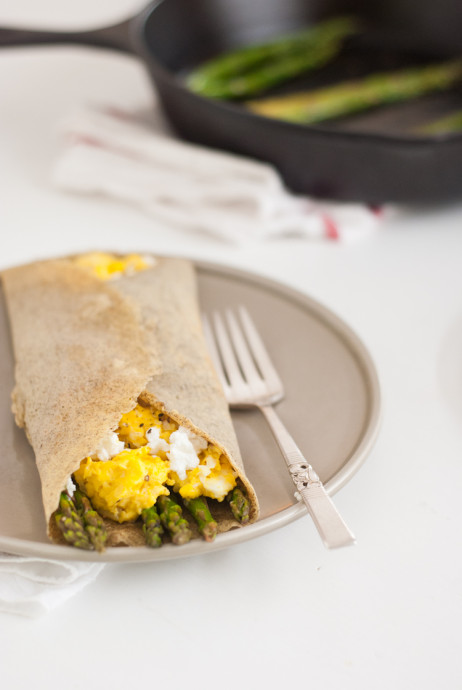 These crepes are easy to whip up in a food processor, blender or by hand, and don't take long to cook. They have a nice nutty flavor and speckled texture thanks to the buckwheat. Buckwheat crepes are great with savory eggs, nut butters and sweet, fruity fillings. The King Arthur people suggest caramelized apples and whipped cream, which I'll try to remember for next fall, and I think peaches and cream would be lovely this summer. Savory crepes to the rescue! After this asparagus frittata, I knew how well eggs, goat cheese, shallot and asparagus go together. I snapped off the tough ends of a handful of asparagus stalks and tossed them in olive oil with salt and pepper. I baked the asparagus at 450 degrees Fahrenheit, in a cast iron pan, for about 10 minutes, until they were fork tender. I sautéed some shallots, then added scrambled eggs with a dash of milk and folded in crumbled goat cheese at the end. Crepe met asparagus, scrambled eggs landed on top, and voilà, an amazing savory springtime crepe was born.
I don't think there's a crepe in the whole world that isn't great with Nutella. Serve with savory fillings or sweet, for breakfast, dinner or dessert!
Ingredients:
½ cup whole spelt flour
¼ cup buckwheat flour
2 teaspoons sugar (up to 1 ½ tablespoons for sweeter crepes)
¼ teaspoon salt
¾ cup plus 2 tablespoons milk
2 large eggs
1 tablespoon unsalted butter, melted (plus more for greasing the pan)