Cantaloupe and Mango Salad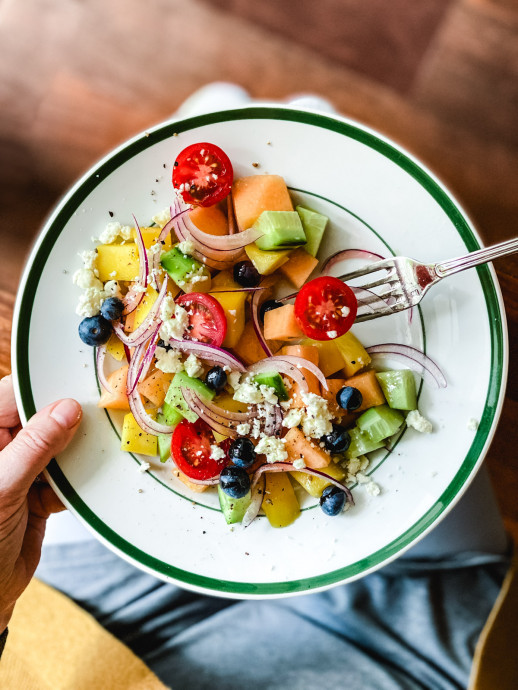 This cantaloupe and mango salad with a tangy lime dressing is a vibrant fruit salad with Mexican, Mediterranean, and tropical influences. All the elements come together to make a very special spring and summer side dish.
When you're ready for something fresh and juicy, this colorful salad will definitely fill the bill. The flavors complement each other beautifully, just be sure to use good ripe fruit. It's one of those magical combinations of ingredients ~ I can't explain why or how, but it just works. The combination of ingredients in this salad is unexpected and lovely, and the dressing is a simple combination of olive oil, fresh lime juice, and a touch of sugar to cut the acidity. Please be sure to use good ripe fruit!
Ingredients:
1/2 ripe cantaloupe, diced
1 ripe mango, diced
2/3 cup blueberries
1 small Persian cucumber, peeled and diced
1/4 small red onion, thinly sliced
12 cherry tomatoes, halved
handful of fresh cilantro, roughly chopped
salt and fresh cracked black pepper to taste
1/4 cup crumbled feta cheese, or more to taste (can also be cojita cheese)
1/4 cup olive oil
3 Tbsp fresh lime juice, or more to taste. I like my dressings on the acidic side, but you may want to add a little more or a little less.
pinch sugar, to taste. I used almost 1/4 teaspoon.
pinch salt, taste