Scrambled Egg Croissant Sandwiches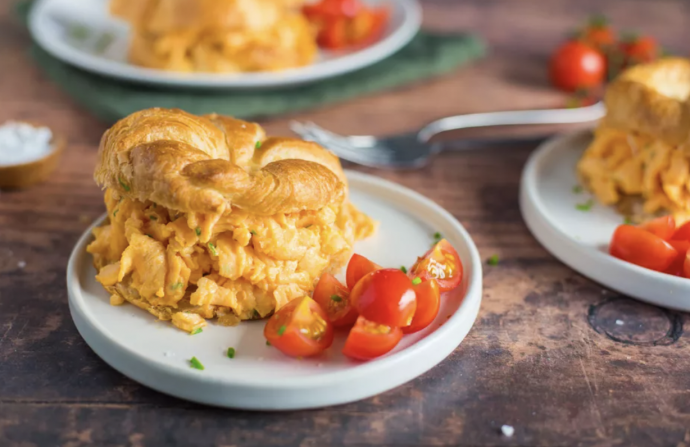 Breakfast sandwiches are a fun way to enjoy eggs in the morning, and this recipe is even more special by swapping out the typical hard roll for a buttery croissant. Indulge yourself with this easy recipe that nestles creamy scrambled eggs into the warmed pastry. The eggs are whisked with milk, chives, and salt until frothy, and then gently cooked in butter until they reach your desired doneness. When sandwiched between the croissant halves, the breakfast sandwich becomes a little bit fancy, perfect for serving at a holiday brunch.
You can buy croissants from your local bakery, but frozen croissants also work well. If you are so inclined, you can make the pastries from scratch. If you'd like to boost the flavor of the scrambled eggs, feel free to add shredded cheese, such as cheddar or Swiss, or a soft cheese like goat; you can also mix in cream cheese or sour cream if you like your eggs extra creamy. This recipe calls for garnishing the dish with quartered cherry tomatoes, but you can chop them finely and include in the scrambled eggs if you prefer.
These egg croissant sandwiches can easily stand on their own but also work nicely with a side of fresh fruit or a tropical fruit salad.
Ingredients:
4 croissants
6 extra-large free-range eggs
2 tablespoons milk
3 tablespoons chopped chives
1/2 teaspoon sea salt, plus more for optional garnish
1 1/2 tablespoons unsalted butter
10 cherry tomatoes, quartered, for garnish