Arugula and Cremini Quiche with Gluten-Free Almond Meal Crust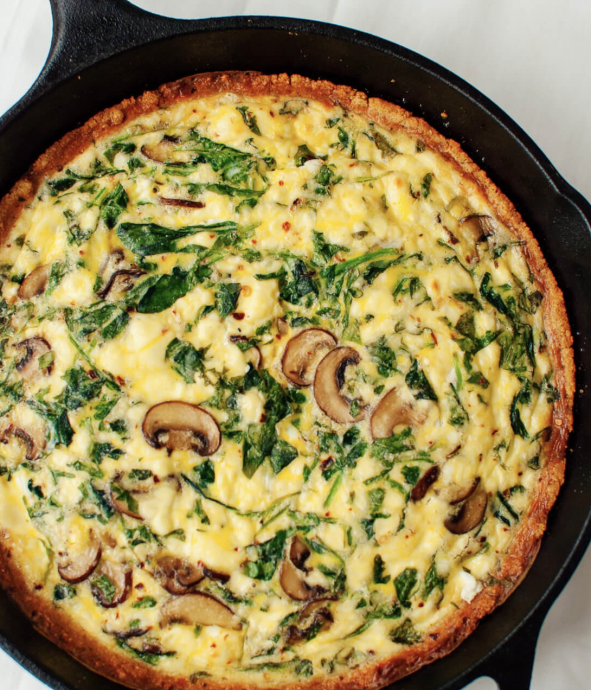 I've never been a big fan of all-purpose flour crusts, but this crisp, savory, herbed crust is another story. We all absolutely loved the flavor and texture of the crust and requested the recipe. The best part? You don't even need a rolling pin to make it. Just smush the crust into form with your fingers.
I've been working on a larger scale version that can be baked in a cast iron skillet ever since. My final, favorite version starts with a garlicky thyme and almond meal crust, which is filled with scrambled eggs, goat cheese, mushrooms and arugula. It's fresh, filling and simple—perfect for a holiday brunch or a simple weeknight dinner.
Ingredients:
Gluten-free almond meal crust
2 cups packed almond meal or almond flour (I had better results with almond meal)
3 garlic cloves, pressed or minced
1 tablespoon minced fresh thyme or 1 teaspoon dried thyme
½ teaspoon salt
¼ teaspoon freshly ground pepper
⅓ cup olive oil
1 tablespoon and 1 teaspoon water
Arugula, Cremini mushroom and goat cheese filling
3 cups baby arugula, roughly chopped
1 ½ cups cleaned and sliced Cremini mushrooms
Drizzle olive oil
6 large eggs
⅓ cup milk
½ teaspoon salt
¼ teaspoon red pepper flakes
5 ounces goat cheese, crumbled