Baked Chicken Meatballs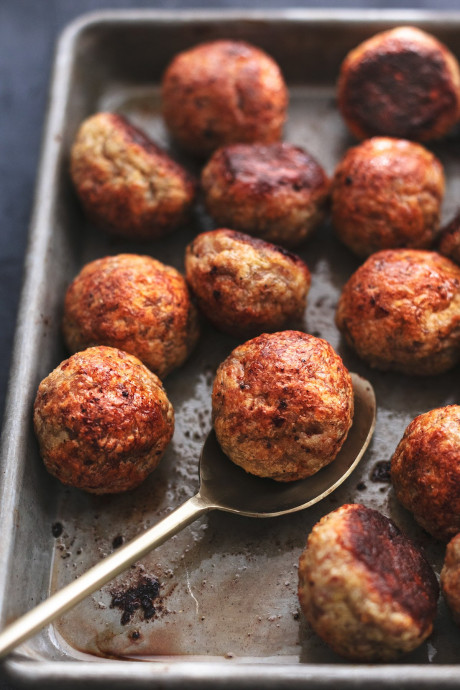 These Baked Chicken Meatballs could not be easier, made with ground chicken and just a few pantry staples but they are SO flavorful and are delicious to eat plain, or in your favorite entrees!
So easy — These take only 30 minutes to make and that includes putting them together and baking them. Plus, the ingredients are probably already in your pantry and fridge.
Delicious — The ground chicken is such a nice break from the norm. It has a mild flavor so it picks up the herb flavor so well. Plus, it's quick-cooking and not too greasy.
Customizable — You can add any of your favorite herbs into these chicken meatballs. Or add parmesan cheese, extra garlic, onions — you name it. Plus, you can put these on top of any kind of pasta, with all sorts of sauces (marinara, alfredo, BBQ sauce), and more.
Kid-friendly — I'll tell ya what, my kids LOVE these meatballs. They love to just put them on a fork and eat them just like that. Or dipped in sauce. Or cut up in pasta. I usually make a double batch because they eat the first batch all up and there are zero leftovers.
Ingredients:
1 pound ground chicken - see note
1 large egg
1 cup panko breadcrumbs
1 teaspoon Italian seasoning or Herbs de Provence
1 tablespoon minced garlic
1 teaspoon onion powder
2 tablespoons olive oil
¼-½ teaspoon crushed red pepper flakes
1 teaspoon salt
½ teaspoon cracked black pepper - or 1/4 teaspoon ground black pepper