Blueberry Cheesecake Streusel Muffins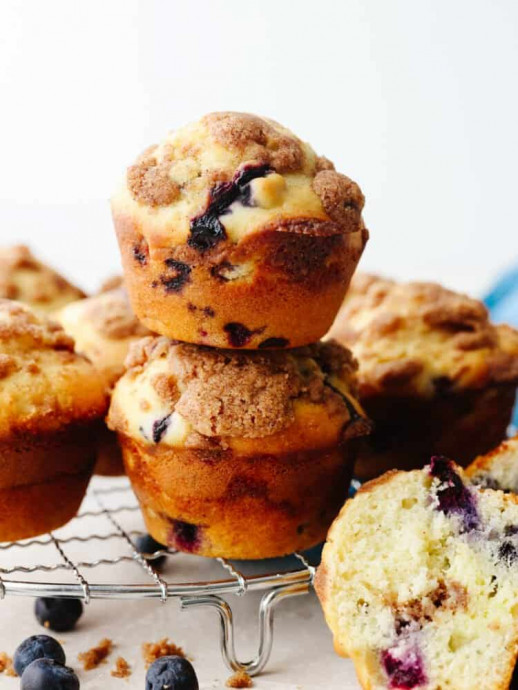 These blueberry cheesecake streusel muffins are soft, moist bakery-style muffins bursting with fresh blueberries. The surprise cheesecake center is the perfect addition to this fantastic recipe!
I love muffins for breakfast! They come in so many flavors that choosing which one to bake is the most challenging part! A few of my very favorite tried, and true recipes are these donut muffins, these lemon poppyseed muffins, or these amazing Denver omelet breakfast muffins!
It is spring break for us. One thing I forget with my boys being home is how much they eat. I have been trying to make something fun for breakfast each morning that they have been home. So I made these fantastic muffins yesterday. My strawberry cheesecake streusel muffins inspired them and I decided to change things up and use some blueberries instead! They were the talk of breakfast! Everyone LOVED them and could not stop talking about them!
Let me break these muffins down for you. You start with a soft and moist bakery-style muffin. Followed by a cinnamon streusel center and topped with more cinnamon streusel. The muffin is bursting with fresh blueberries. But let's not forget about my favorite part. The cheesecake center. Pure heaven. A muffin doesn't get any better than this! You are going to love them!
Ingredients:
Muffin
2 cups all purpose flour
1/2 cup granulated sugar
2 tsp baking powder
1/2 tsp salt
1 egg
1/4 cup canola oil
1 cup whole milk
1 tsp vanilla extract
1 cup fresh blueberries
Cream Cheese Filling
4 ounces cream cheese
1/3 cup granulated sugar
2 tbsp beaten egg
1 tsp vanilla extract
Cinnamon Streusel
1/4 cup all purpose flour
1/4 cup brown sugar
1 tsp cinnamon
3 tbsp butter