Easy Hollandaise Sauce Recipe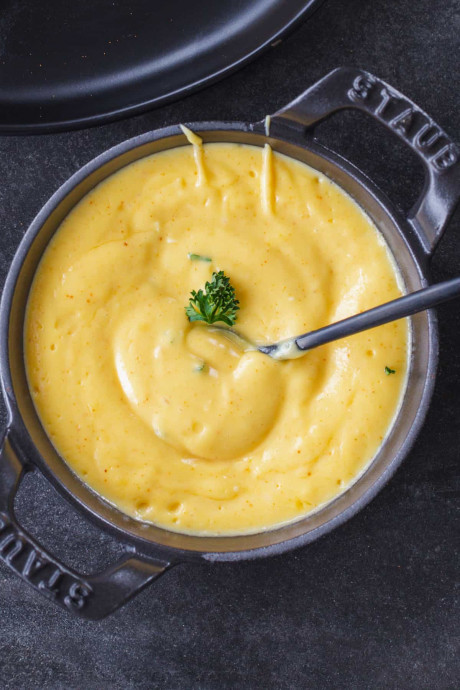 Hollandaise Sauce sounds fancy but it is truly easy to make. It's often drizzled over a classic dish of Eggs Benedict with crispy bacon, toasted English muffins, and Poached Eggs.
Hollandaise sauce is one of the five "mother sauces" in French cuisine and consists of egg yolks, butter, lemon juice, and water whisked to creamy perfection over low heat. When preparing this decadent recipe, opt for high-quality eggs and butter – it makes all the difference. I prefer to get grass-fed butter for its deep yellow color and organic eggs.
Hollandaise Sauce Ingredients: Egg yolks – separate your eggs and use the yolks only which help thicken up the sauce. Save the egg whites for a healthy Egg White Omelette the next day!
Lukewarm water – To regulate the temperature of the sauce, add lukewarm water.
Lemon juice – The acid from the lemon juice helps the egg yolks absorb more fat from butter and adds a nice pop of tang. You also need it to prevent cracks and help the sauce thicken up.
Dijon mustard – adds a great layer of flavor and bite to the sauce. Unsalted butter – Butter is the key ingredient to helping your hollandaise emulsify and thicken up to a nice consistency. Salt – We use fine sea salt in 99% of our cooking. Feel free to adjust the amount you use to your taste. Cayenne pepper – If you love a kick of heat, add cayenne pepper to taste.
Ingredients:
2 large egg yolks
2 Tbsp lukewarm water
2 tsp fresh lemon juice
1/2 tsp dijon mustard
1/2 cup unsalted butter, (8 Tbsp)
1/4 tsp fine sea salt, or more to taste
1/8 tsp cayenne pepper, or more to taste