Banana Waffles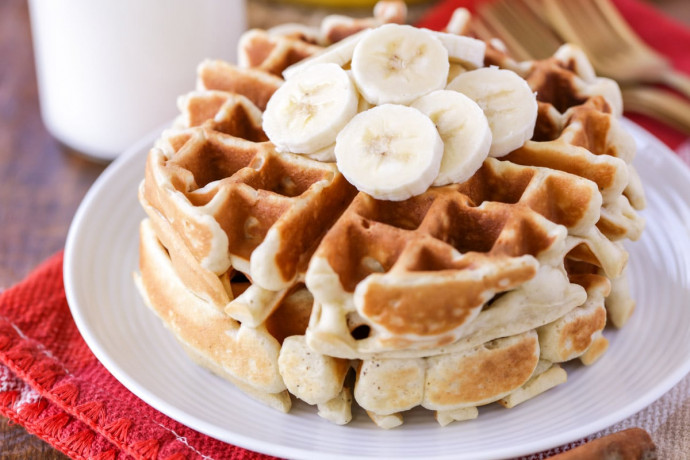 Banana Waffles are filled with fresh banana puree for a naturally sweet flavor. This kid-friendly breakfast whips up in only 15 minutes!!
Waffle Tip: The less you fuss with the batter the fluffier your waffles will be! I always let my batter sit for a few minutes to thicken before I make the waffles.
Be sure you mix the dry ingredients separately as directed in the instructions.
Don't over mix. Its ok if the batter has a few lumps.
How to freeze? Freeze these waffles to be enjoyed later whether you make ahead of time or have leftovers. Place the cooked waffles on a parchment paper lined baking sheet. Freeze until frozen (about 2 hours). Then, put them in an airtight freezer safe container. I usually use a Freezer Ziploc bag. The waffles will stay good for up to 4 months.
How to store? Store leftovers in an airtight container in the fridge for 2-3 days.
How to reheat? To reheat refrigerated or frozen waffles, preheat oven or toaster oven to 350 degrees F and bake for 10-15 minutes or until hot. You can also heat them up in a toaster or the microwave.
Ingredients:
1 1/4 cup all-purpose flour
1 tbsp baking powder
1 tbsp sugar
1/2 tsp salt
pinch nutmeg
pinch cinnamon
1 cup milk
1 egg
1 tsp vanilla extract
2 bananas, mashed