Potato Pepper Stir-fry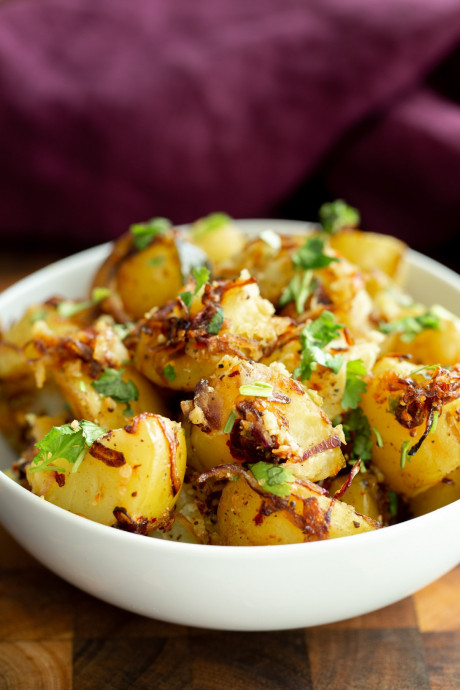 A simple yet flavorful South Indian Potato Pepper Stir-fry which is super addictive with loads of black pepper and a simple tempering /tadka. Serve this easy vegan dish with Dals or sambar and rice or flatbreads or dosa. Or just eat up as is! So good. Gluten-free!
Oftentimes when sitting down to dinner we wish there was a more exciting, more zesty side dish to go with our main.
What lends this potato fry its special flavor are curry leaves, red onion, black pepper and mustard seeds. Mustard seeds are widely used in Indian cooking, and when roasted in hot oil, infuse the oil with a delicious flavor. To learn how to roast mustard seeds, follow my Indian cooking series on my tik tok or Instagram!
When cooking with them they are added at the start of the dish and fried until they being to pop and release their unique flavour and add a nutty taste to the dish.
Ingredients:
For the potatoes:
3 cups (450 g) quartered baby potatoes or 3 cups of cubed potatoes about 1 inch size cubes
1 teaspoon salt
1/2 teaspoon turmeric
1/2 teaspoon pepper flakes
For the tempering:
2 teaspoons oil
1/2 teaspoon mustard seeds
1 cups (160 g) of thinly sliced red onion 1 to 1.5 cups
2 cloves garlic minced
10 curry leaves
1 teaspoon freshly ground black pepper
1/2 teaspoon pepper flakes or use 2 dried red chilis
1/4 teaspoon salt
cilantro and lemon juice for garnish