The Best Sesame Soy Broccoli Salad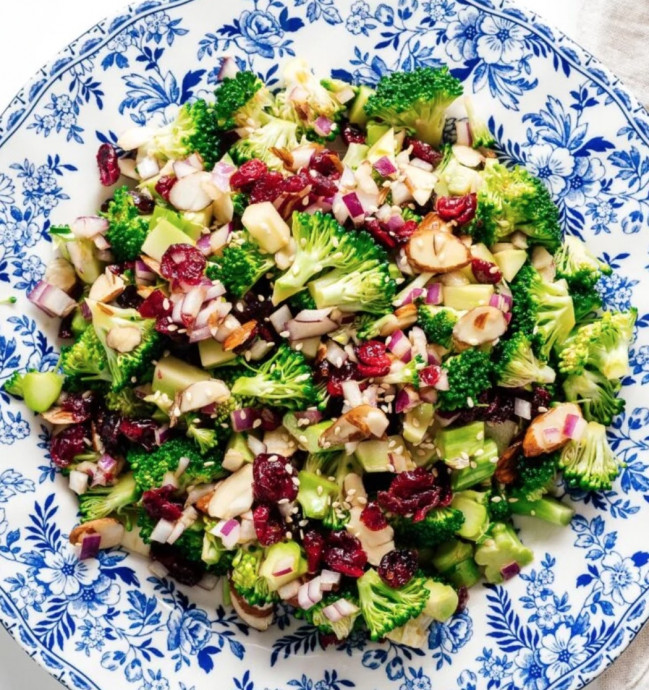 Hello broccoli salad! Broccoli salad with a sweet and tangy dressing is my new go to for summer parties. Is spoonable, super healthy, and simply delicious.
When you're trying to eat healthier but want something more substantial than a leafy green salad, broccoli salad is there for you. I love the crunch and heft of broccoli, especially when it's cut up into bite size spoonable pieces.
Some people aren't into raw broccoli, but I love it! I always go for the raw broccoli on those vegetable platters that seem to be at every potluck/party you go to.
This is a simple broccoli salad: you have the bulk of it, raw broccoli; crunchy red onions for a bit of acidity and raw crunch, craisins for sweetness, almonds for a nutty counter point; and a sweet and tangy soy-rice vinegar-sesame dressing.
A super hearty, filling salad full of fresh crisp raw broccoli plus a bunch of other delicious things tossed in a sweet and tangy dressing. Broccoli salad is perfect because unlike a lot of other salads, it actually gets better when it's made ahead of time. This makes it perfect for meal prep and bbqs. I especially love THIS broccoli salad because unlike a lot of the broccoli salads out there it's not mayonnaise or cream based making it last longer and keep better. Plus, it's healthier!
Ingredients:
Dressing
1 tbsp soy sauce
1 tbsp rice vinegar or other vinegar
1 tbsp neutral oil
1/2 tbsp toasted sesame oil
1/2 tbsp sugar
1/2 tsp black pepper or to taste
Salad
3 cups broccoli chopped, about 1 small head
1/4 red onion diced
1/4 cup craisins
2 tbsp sliced almonds
1/2 tsp toasted sesame seeds to finish