Vegan Apple Pie Bars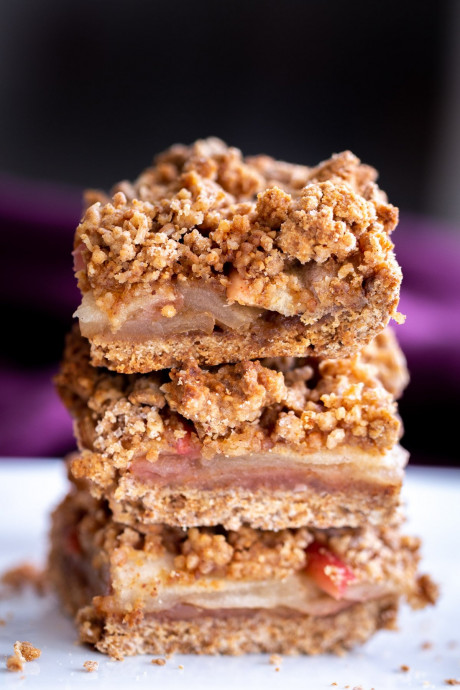 These Vegan Apple Pie Bars come together so quickly and easily. Almond Butter in crust and crumble topping helps keep these Oilfree and make these taste extra special. Options for Glutenfree and Nutfree. There is nothing like the scent of apple pie baking and cooling in the kitchen. But if you're like me, sometimes one does not feel like going through the whole process of making pie crust, chilling it, and rolling it out, making sure everything looks pretty then These homemade Apple pie bars are my easy solution for those urgent apple pie cravings!
These Vegan Apple Pie Bars are much easier to make than making a whole pie and are the perfect way to feed a crowd on a budget. They have all the sweet cinnamon flavors of an All-American apple pie but come in hand-held form!For these vegan apple crumble pie bars , thr dough you make for the crust doubles as the crumb topping. You could even transform them into caramel apple pie bars should you want to make them extra special.
Ingredients:
For the crust and the crumb:
3/4 cup (93.75 g) all purpose flour
1/4 teaspoon salt
3-4 tablespoons brown sugar
1/4 teaspoon baking powder
1 teaspoon cinnamon
1/2 teaspoon vanilla extract optional
1/3 cup (85 g) plus 1-2 tablespoons smooth almond butter
1 tbsp maple syrup
For the apple layer:
1 large honey crisp apple thinly sliced or about 2 cups of thinly sliced apples or you can chop them into small pieces instead
2 tablespoons maple syrup
1 tablespoon brown sugar
zest of 1/2 lemon
1 teaspoon cornstarch
1/2 teaspoon cinnamon