Lemon Thyme Layer Cake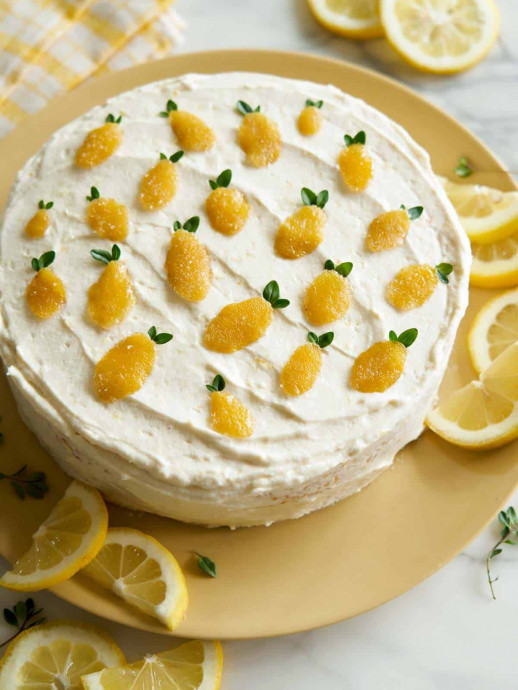 Our Lemon Thyme Layer Cake is perfect for a celebration. Serve our Lemon Cake recipe as single layers with frosting on top for a more casual presentation. We love the bright lemon taste in this recipe along with the hint of thyme. It's a crowd pleasing cake for sure!
Today we have a simple Lemon Thyme Cake for you, that you can have as two single layer lemon cakes, or make as a Lemon Layer Cake. It's inspired by the homemade cakes I have with my husband's family. They're often light and airy and usually closer to the angel food cake variety than something more rich and dense like chocolate. This lemon cake recipe is so light, but also packs tons of flavor. You get a pleasant burst of fresh lemon in your mouth and it finishes with a subtle hint of thyme. I really think lemon and thyme go hand in hand and if you know me, you know I'll usually try to sneak a little bit of savory into my sweets any chance I get. I love the simplicity of this cake, after all, it is inspired by casual family dinners and it doesn't need to be fussy or fancy.
Speaking of fancy, there are a couple of ways to take this cake. This lemon cake recipe makes two 8 inch rounds. You can either serve them individually with a single layer on top like below, or you can get crazy and serve them with these cute mini candied lemons on top!
Ingredients:
cake
2 cups cake flour
1 teaspoon baking powder
½ teaspoon baking soda
½ teaspoon salt
1 ½ cups superfine sugar
½ cup unsalted butter, melted and cooled
2 eggs, lightly beaten
1 cup whole milk
3 ½ tablespoons fresh lemon juice
1 teaspoon almond extract
zest of 1 lemon
1 ½ tablespoons fresh minced thyme
frosting
½ cup (1 stick) unsalted butter, softened
2 ½ cups powdered sugar, sifted
½ teaspoon vanilla extract
½ teaspoon almond extract
2 ½ to 3 ½ tablespoons heavy cream or milk
zest of 1 lemon