Small Batch Mini Sourdough Babka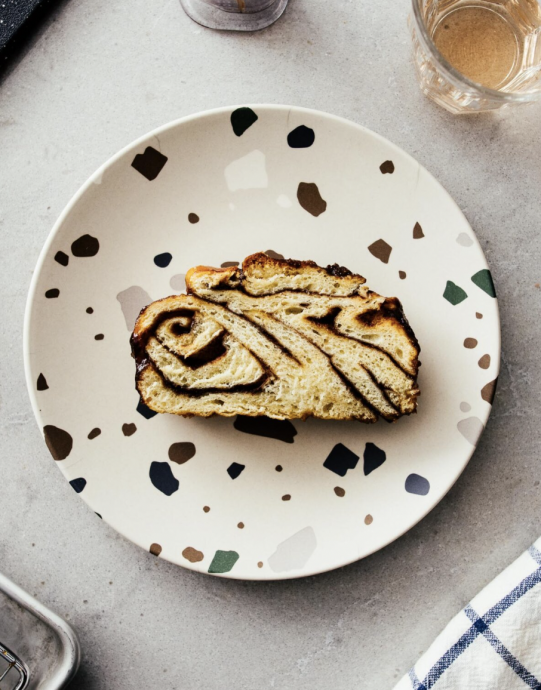 Like everyone else on the internet, I've been playing around with wild yeast and baking sourdough. I just finished baking my third loaf (each loaf is getting better and better!) and I thought I'd try my hand at some other sourdough goods, like sourdough babka.
Actually, do we need to back up and talk about what babka is? If you haven't had it before it's a super rich buttery enriched dough that's spread with chocolate (or cinnamon), rolled up, twisted, and baked into a lovely loaf of bread-y sweet deliciousness. Babka is everywhere and those beautiful glossy twists of bread made me want to try too.
Sweet, sticky, ribbons of cinnamon all streamed through a soft and fluffy dough. I think I'm addicted to babka baking. Now I just need to figure out the right proportions for my favorite pan. Oh, and I am probably going to work on a chocolate babka, since, you know, this is the lesser babka.
Ingredients:
Babka Dough
187.5 grams all purpose flour
53.5 grams whole milk
53.5 grams egg about 1 egg
4 grams salt
14.5 grams sugar
23 grams sourdough starter young but mature
50 grams unsalted butter at room temp, cut into small pieces
Cinnamon Sugar Filling
100 grams brown sugar
1.5 tbsp unsalted butter melted
7.5 grams all purpose flour
1.5 tsp cinnamon
1/8 tsp salt
Simple Syrup
1 tbsp sugar
1 tbsp boiling water