Italian Tomato and Bread Soup (Pappa Al Pomodoro)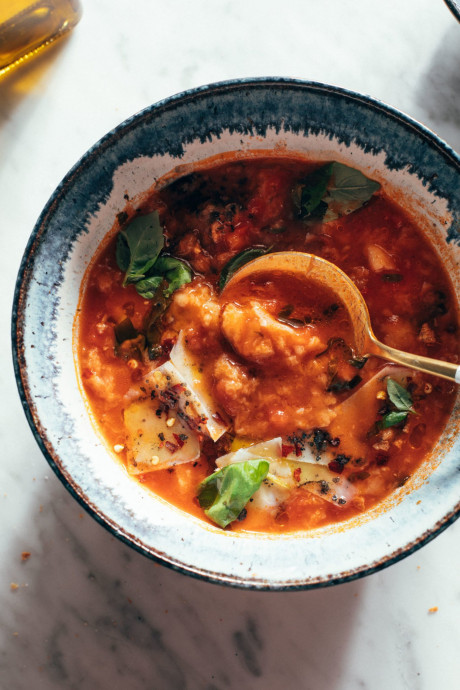 Deep, unimpeded, sweet tomato flavor with swirls of garlic and rich velvety olive oil, bright fresh basil and, listen to this, your hunky crusty bread dips are already included! Make way for tomato and bread soup also known as pappa al pomodoro. Pappa al pomodoro hails from the Tuscany region of Italy and is especially popular and fiercely claimed in Florence and Siena. It essentially translates to "tomato mush" and depending on where you have it and who is making it, it can range in texture from more of a porridge to a slightly thinner soup or stew consistency like we have here. But any way you have it, it is definitely all the yum. Just, all of it.
Because there are so few elements, you really want to use high quality ingredients to reach peak flavor. San Marzanos are delicious, fruit, and less acidic than other tomatoes. You'll want really good extra virgin olive oil both for the soup and for the silky drizzles on top for serving. Fresh basil as opposed to dried here. And a good crusty white bread will do the trick. If you're a rule-follower and don't want to mess with soup laws, you can keep the soup simple and then just accompany it with some other lovelies like: simple green salad, some sautéed shrimp (see step 2 in the recipe card for how we did this), creamy white beans, a soft-boiled egg . You have options! But you also have swizzles upon swizzles of rich olive oil and peppery torn basil and deep tomato flavor that already tastes like bread dips. You really are set.
Ingredients:
3 tablespoons extra virgin olive oil
3 cloves garlic, smashed or thinly sliced
one 28-ounce can whole peeled San Marzano tomatoes
1 teaspoon kosher salt
Freshly ground black pepper to taste
4 cups vegetable or chicken broth
1/4 cup packed fresh basil, chopped or torn
2–3 cups dry bread, torn or cut into cubes (see notes)