Baked Vegan Chana Pulao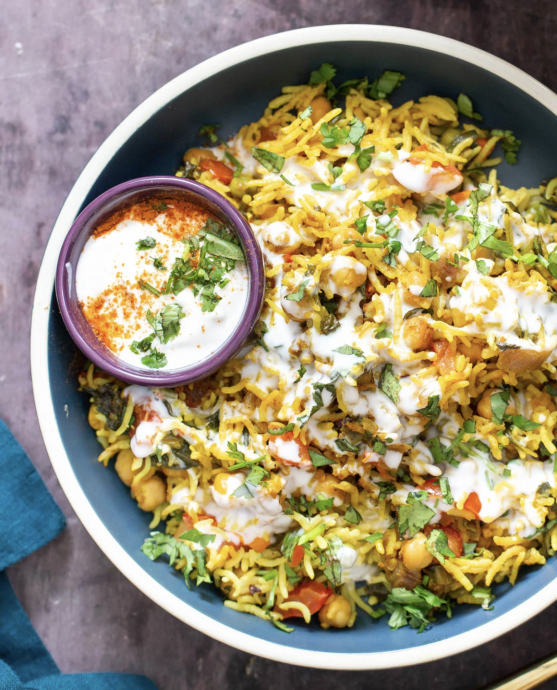 Baked Vegan Chana Pulao is a simple and easy, baked chickpea rice pilaf casserole that comes together quickly but is loaded with flavors. Serve with my quick raita. 1 Pan Gluten-free Soyfree Nutfree.
Chana pulao is a popular Indian one-pot chickpea rice dish that is made with fragrant basmati rice, protein-rich chickpeas, onions, fresh tomatoes, veggies, and bold warming Indian spices. You could also call it Chickpea pulao, chickpea pilaf, or simply chickpea rice. This easy meal is traditionally served with a side dish of raita or plain yogurt.
This recipe for Indian vegan chickpea rice casserole is not made on stovetop but in the oven! So simple, so genius. The roasting method concentrates the flavors and natural sweetness of the veggies added. We start with roasting the vegetables, then add in the rice, chickpeas and spinach and bake everything until the rice is cooked and fluffy.
Ingredients:
2 teaspoons oil
1/2 cup (80 g) chopped onion
2 cloves garlic minced
2 bay leaves
1.5 teaspoons ground coriander
1/2 teaspoon turmeric
1/2 teaspoon ground cardamom
1/4 teaspoon black pepper
1/4 teaspoon cayenne or use paprika for less heat
1 - 2 teaspoon garam masala or curry powder or biryani masala
1 cup (149 g) vegetables such as chopped peppers, carrots, peas, green beans, or other vegetables of choice
3/4 teaspoon salt, divided
1/2 cup (74.5 g) chopped tomato
1 cup (156 g) frozen spinach, thawed or 2 cips chopped or baby fresh spinach
15 ounce (425.24 g) can chickpeas drained or 1.5 cups cooked chickpeas
1 cup (185 g) white basmati rice washed and soaked for at least 15 minutes
2 cups (475 ml) water
cilantro and lime juice for garnish