Dulce de Leche Cream Pie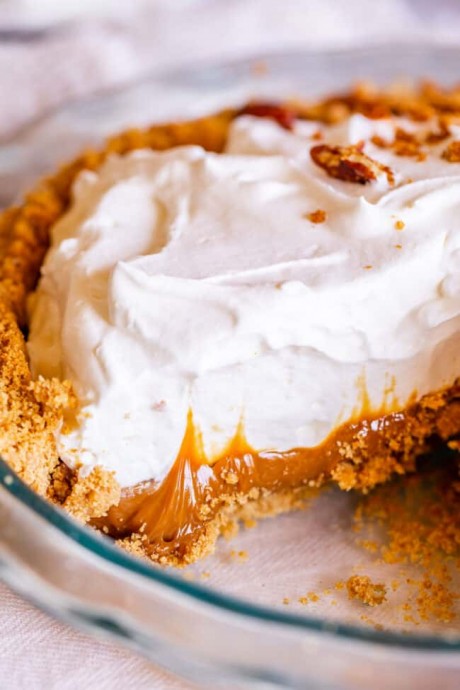 This Dulce de Leche Cream Pie is a really impressive dessert you can make with very little effort! It is so easy and is a huge crowd pleaser. Who can say no to sweet caramel-like filling and mountains of whipped cream? And don't forget the crunchy Pecan-Graham Crumble on top!
This recipe is so simple it barely counts as a recipe. There are four parts: a thick graham cracker crust, salted dulce de leche filling, whipped cream, and pecan-graham-crunch topping that you are going to want to eat in a bowl like cereal. But don't, save it for the pie, trust me. (unless you have leftovers. Then cereal it up.)
Dulce de leche is similar to caramel but has a more mellow, butterscotch-toffee like flavor. It's great as a pie filling because it is so much thicker than caramel. It will not ooze out of your slice after you cut into your pie. The consistency is more like peanut butter. It's so easy, and if you want to double this part of the recipe and save the leftovers for topping your ice cream, you would be very smart indeed.
This pie can be made in advance. Follow instructions through step 12. Cover the pie well and chill for up to 3 days. Store the Pecan Graham Crumble covered on the counter for up to 5 days.
Ingredients:
2 (14 ounce) cans sweetened condensed milk
1/2 teaspoon flaked sea salt (fleur de sel)
2 and 1/4 cups graham cracker crumbs
2 tablespoons sugar
1/4 teaspoon salt, any kind
7 tablespoons butter, melted
6 full sheets graham cracker
3/4 cup pecans
1/4 cup (half stick) butter, melted
2 cups heavy cream, very cold
2-4 tablespoons powdered sugar
1 and 1/2 teaspoons vanilla
more dulce de leche, to drizzle (or salted caramel topping), optional