Quiche Lorraine With Bacon and Gruyère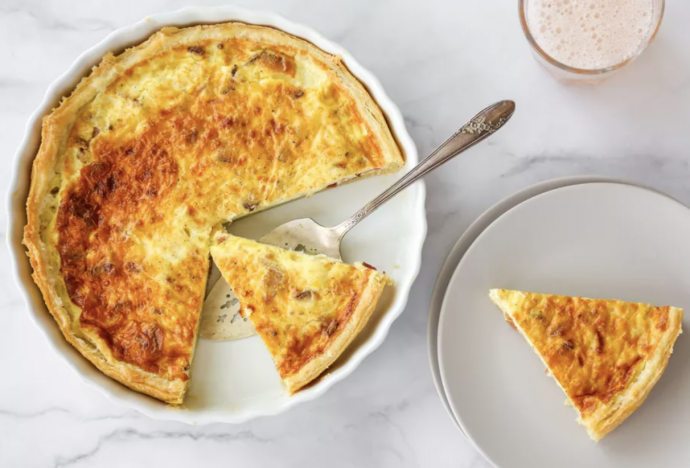 Quiche Lorraine is a rich egg pie that hails from the mountainous region of Lorraine in northern France. Popularly served as a starter, it's also sufficient for a filling meal in itself and is regularly served for breakfast or brunch. Over the years, quiche Lorraine has been adapted from a humble custard and bacon pie to the substantial cheese, bacon, and egg creation that it is known as today.
Making any quiche at home can be intimidating if it's one of your first attempts, but it doesn't have to be that way. This quiche Lorraine recipe breaks it down, walking you through the dish step-by-step to demonstrate just how straightforward a delicious egg custard is to make. It begins with a layer of crumbled bacon inside the unbaked pastry. It is then topped with a beaten mixture of eggs, half-and-half, and simple seasonings, and it's finished off with the nutty taste of shredded Gruyère cheese. Pop it in the oven, and within an hour, you'll have a tasty dish ready for the table.
For the pie dough, you can either buy it frozen or make it from scratch. Shortcrust pastry is traditionally used for quiche Lorraine because it bakes to a crumbly texture that's perfect for savory dishes. It's made with nothing more than flour, salt, butter, and a touch of cold water. If it's frozen, let it thaw completely before using. You'll also want to use a deep-dish pie plate for this recipe to ensure it holds all of the filling.
Serve the quiche Lorraine with your favorite potato side dish and crusty bread. It also goes well with a fresh green salad and sautéed veggies. For brunch, mix up a fruit salad and enjoy the light meal with mimosas.
Ingredients
1 layer pastry dough
4 slices cooked bacon, crumbled
4 large eggs
1 cup half-and-half
1/4 teaspoon salt
1/8 teaspoon white pepper
1/8 teaspoon freshly grated nutmeg
1 cup shredded Gruyère cheese