Blueberry Cobbler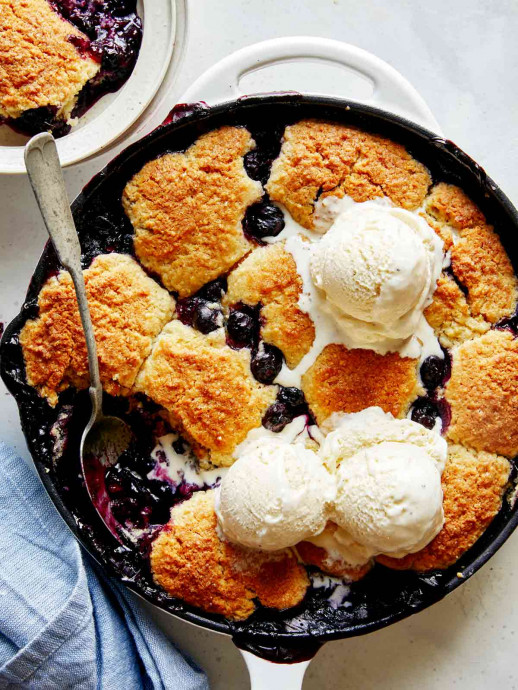 The best Blueberry Cobbler you will ever taste! Our recipe is simple, packed with so much sweet blueberry flavor and topped with the perfect cornmeal infused biscuit crust. Serve it with scoops of vanilla ice cream for the perfect summer dessert!
Growing up one of my friend's mom made the best Blueberry Cobbler. I always loved walking into their house after school and being taken over by the most delicious aroma of sweet and buttery blueberry. It would always be so hard for us to wait for it to cool down enough for us to inhale it in minutes.
Our Blueberry Cobbler is inspired by that childhood recipe that I loved so much. It's a simple dessert with the most delicious biscuit crust. Our secret is the addition of cornmeal in the biscuit that gives it a subtly pleasant nutty flavor. We love to serve it with a scoop of vanilla ice cream for the perfect summer treat!
Ingredients:
1 tablespoon unsalted butter
6 1/2 cups fresh blueberries (about 2 pounds)
3/4 cup sugar
3 tablespoons cornstarch
3 tablespoons lemon juice
2 teaspoons vanilla extract
1/4 teaspoon salt
1 1/2 cups all purpose flour
1/2 cup finely ground yellow cornmeal
1/2 cup sugar
1/4 cup light brown sugar
1 1/2 teaspoons baking powder
1/2 teaspoon salt
1/2 cup (1 stick) cold unsalted butter cut into small cubes
1 cup heavy cream
1 tablespoon turbinado sugar