Falafel Burgers With Tzatziki Slaw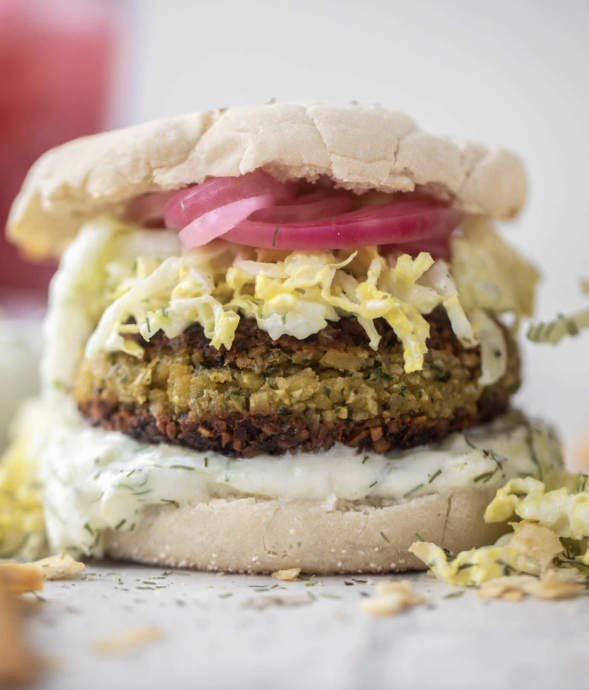 We love these falafel burgers! Crispy, chewy falafel burgers on a toasted english muffin bun with a tzatziki slaw and pickled onions. This meal is absolute perfection!
I've made chickpea burgers before, along with baked falafel and even green goddess falafel. It's one of my favorite things! The serious texture of falafel is unmatched – so many delicious flavors and incredible tastes. I love how herby they are, how every bite has a bit of crunch in there. And let's talk about the bun. I love a burger on an english muffin. I've done this before and it's such a lovely twist – the english muffin is so toasty with all the nooks and crannies. I love how it complements any burger, but especially this crispy falafel.
I love how versatile these are. You can make regular burgers or sliders. You can also just serve them alone with the slaw on top – even that is such a delicious way to enjoy them!
Ingredients:
1 ½ cups dry chickpeas, soaked overnight
½ sweet onion, diced
½ cup parsley
¼ cup cilantro
¼ cup basil
2 tablespoons snipped chives
4 garlic cloves, chopped
1 tablespoon all-purpose flour
1 ½ teaspoons cumin
1 teaspoon salt
½ teaspoon freshly grated lemon zest
½ teaspoon smoked paprika
¼ teaspoon freshly cracked black pepper
3 to 4 tablespoons olive oil, for cooking
toasted english muffins, for serving
pickled onions, for serving
1 cup plain greek yogurt
¼ cup grated cucumber
1 teaspoon dried dill
2 garlic cloves, minced
1 lemon, juiced and zest freshly grated
kosher salt and pepper
2 cups shredded napa cabbage