The best tomato galette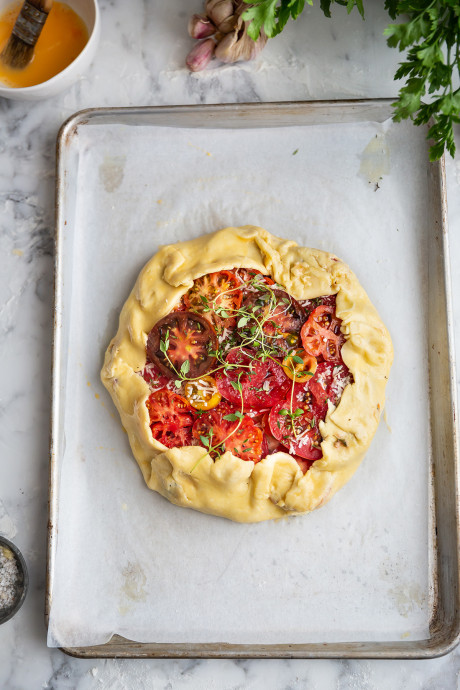 I have had this tomato galette recipe idea in my head for a while and was thrilled when after making it turned out perfectly the first time. A herb and garlic ricotta give the tart its body and it helps to prevent a soggy pastry bottom from all the delicious tomato juices. I've used my favourite sour cream pastry recipe because it delivers golden flaky crust every time.
Pastry work is tricky and finicky which is why I often prefer the ease and simplicity of a galette. It's rustic and free-form and you get all the benefit of a crisp flaky crust without the blind baking stage. I do pre-chill this pastry but have also flash-chilled it in the freezer when I didn't plan ahead. Either way, you need to take it out when it's just soft enough to roll out.
Most importantly, using the best tomatoes cannot be stressed enough, and I have used the most incredible heirloom tomatoes which I ripened to their max. Underripe tomatoes that are out of season will just not be good enough here. I slice them on a board and then season well with sea salt, pepper, and a light sprinkle of sugar. This allows some of the juice to drain off, seasons the fruit plus adds that tiny dash of sweetness that is so important to break the acidity of the tomatoes.
Ingredients:
Pastry:
160gms flour
½ tsp fine salt
1 tsp sugar
115gms semi softened butter (you should be able to press your finger into it)
¼ cup full-fat sour cream
1 egg lightly beaten to brush the pastry
2 Tbsp finely grated Parmesan cheese (optional)
Filling:
250gms smooth or crumbly ricotta
1 Tbsp chopped parsley
1 Tbsp chopped basil
2 cloves garlic, crushed
Salt & pepper
650gms perfectly ripe mixed heirloom tomatoes, thickly sliced (+_ 1 1/2 pounds)
1 – 2tsp sugar
4 Tbsp finely grated Parmesan or Pecorino plus extra shavings to garnish (optional)
3 tsp balsamic glaze or balsamic vinegar
1 Tbsp olive oil
3 thyme stalks, leaves stripped (about 1 teaspoon)