Cheesy Potato Puffs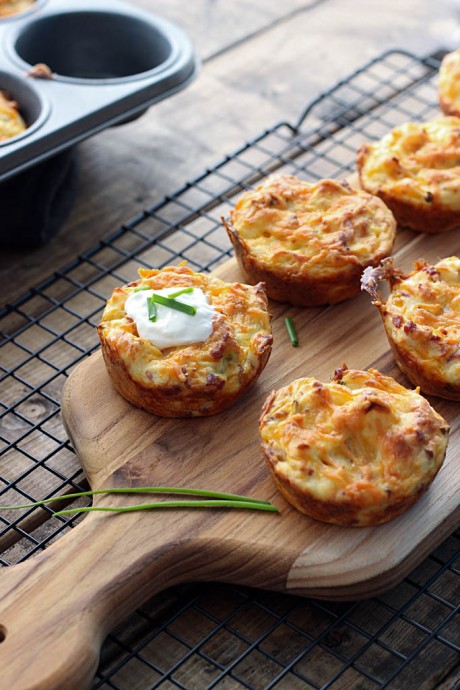 This Cheesy Potato Puffs recipe is a great side dish or appetizer. Crunchy cheese crackers coat these delicious puffs of mashed potatoes.
Work some magic on your mashed potatoes with mashed potato puffs! These loaded potato puffs will breathe some new life into your leftover mashed potatoes! So without gravy, let's try and breathe some new life into mashed potatoes. Let's add texture. By adding some eggs, we'll puff it up in the oven so you'll get crispy, puffy mashed potatoes on the outside, but creamy and soft mashed potatoes on the inside. And we'll beef up the mashed potatoes by loading them up with tons of cheese, bacon bits and chives. These are truly delicious. Crispy on the outside, fluffy on the inside. I can't get enough of them. Here's a warning: you should probably make two batches to avoid family feuding! The more leftover mashed potatoes you have the better. These are so good you should make mashed potatoes just to make them. I've actually done this and carried these puffs proudly to potlucks. And you can actually cheat by using instant mashed potatoes. No one would know the difference.
Topped with some yummy Parmesan cheese, these little puffs are ready in 40 minutes. If you want to make them even smaller and bake a teeny tiny army of mini potato puffs, then you can use mini muffin pans but bake them 10 minutes or so less. Or you could use brownie bar pans and make fun tightly packed square potato puffs.
Ingredients:
2 cups mashed potatoes
3 large eggs, beaten
1 cup cheddar cheese, shredded
1/4 cup bacon bits
1/4 cup chives, chopped
Pepper to taste
1/4 cup Parmesan cheese, shredded