BBQ Chicken Salad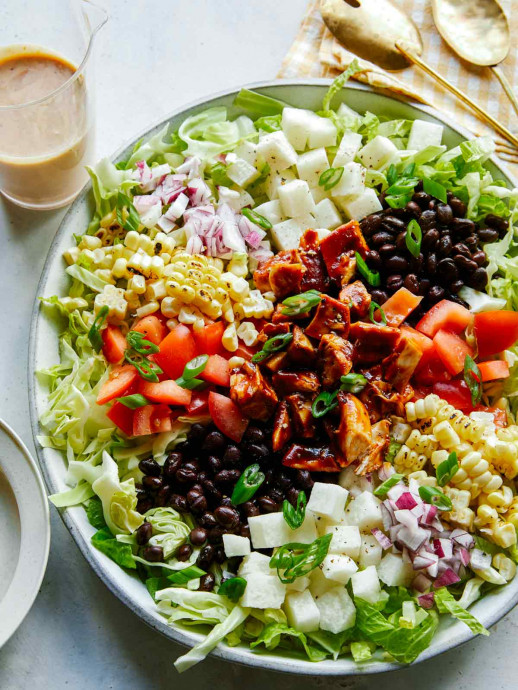 Large, fresh and totally an entree type dish, our delicious BBQ Chicken Salad is full of flavor and texture! We paired our salad with a bbq ranch dressing that's made a little healthier by using yogurt instead of mayo and/or sour cream! It can feed a bunch of people and takes only 30 minutes to throw together!
I love a big entree salad and our BBQ Chicken Salad recipe is a sure favorite! I love that this salad is packed with so many fresh ingredients that come together and always hits the spot. This is probably one of my favorite summer salads (that I totally eat year round)!
I also love that so much of this salad can be prepped ahead of time, so it takes just a few minutes to throw everything together when you're ready to enjoy it!
Ingredients:
2 tbsp vegetable oil
1 pound boneless skinless chicken thighs
1 cup prepared bbq sauce
salt and pepper to taste
bbq ranch yogurt dressing
1 cup buttermilk
1/2 cup Greek yogurt
2 tbsp thinly sliced chives
2 tbsp minced parsley
2 tsp garlic powder
1 tbsp onion powder
1 tsp salt
1/4 tsp black pepper
1/2 cup prepared bbq sauce
salad
1 romaine heart, shredded
1/2 head green cabbage, shredded
1 cup canned black beans, drained and rinsed
2 roma tomatoes, diced
2 fresh corn on cobb, charred under broiler and kernels removed (cobbs discarded)
1/4 red onion, diced
1/2 jicama, peeled and diced
2 green onions, sliced on bias