Gluten Free Rocky Road Squares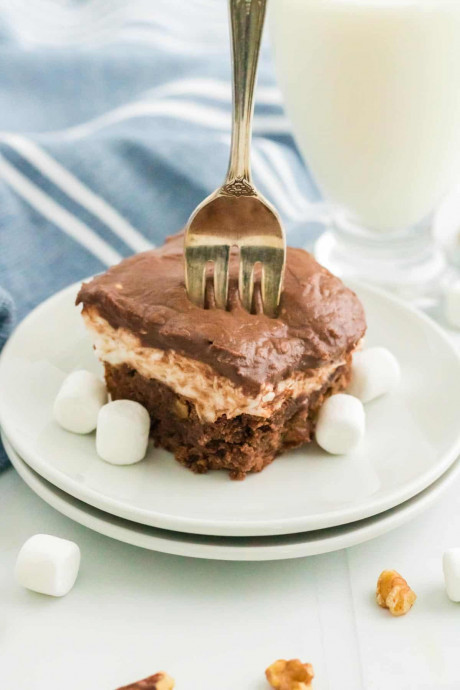 Get your glass of milk ready because it's time to dig into Gluten Free Rocky Road Brownies. These rich, fudgy squares with chunky walnuts, gooey marshmallows, and a thick layer of chocolate frosting are the ultimate splurge-worthy dessert.The ingredients for these Rocky Road Squares are just what you would expect. No surprises, but it's the walnuts, marshmallows, and frosting that take them beyond your standard gluten free brownie recipe.This recipe is super simple, but a few things will ensure your Gluten Free Rocky Road Brownies are absolutely perfect!
Have all of your ingredients at room temperature. This ensures that everything will blend together nice in smooth in both the brownie batter and the frosting.
Spoon lightly. When measuring the dry ingredients, lightly spoon them into the measuring cups, then level off so you don't pack in too much.
Sift if needed. If you notice lots of clumps or chunks in your powdered sugar or cocoa powder, try sifting it so you get a nice, smooth icing.
Ingredients:
For the brownies:
1/2 cup unsalted butter, softened to room temperature
1 cup granulated sugar
3 Tablespoons unsweetened cocoa powder
2 large eggs
3/4 cup 1:1 gluten free flour blend (recommended: Bob's Red Mill 1-to-1 Baking Blend)
1/4 teaspoon salt
1/2 teaspoon pure vanilla extract
3/4 cup chopped walnuts
4 cups miniature marshmallows
For the frosting:
1/2 cup unsalted butter, softened to room temperature
2 1/2 cups powdered sugar
1/4 cup unsweetened cocoa powder
2-4 Tablespoons milk
1 teaspoon pure vanilla extract