Profiterole wreath with cherries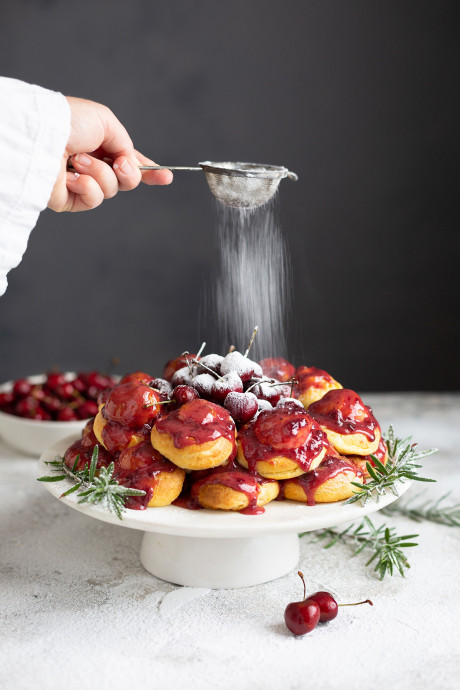 This is a lovely festive dessert recipe with profiteroles stuffed with Crème pâtissière and arranged in a wreath around a pile of fresh cherries. Their season is short and it's best to jump on board as soon as it starts.
Cherry Time delivers boxes of fruit directly from their farm in Worcester to your door during the season. There is no better or easier way of procuring this delicious stone fruit. They are picked off the tree and packed straight away minimizing any delays in handling and processing. They are the freshest they can be and will last for ages if you let them. The pastry cream is quite sweet so I used a little cream to lighten it, but this is totally optional. Store any leftover filled profiteroles in the fridge. If you don't wish to use pastry cream, fill your profiteroles with Chantilly cream (cream mixed with vanilla).
Ingredients:
Crème pâtissière
2 cups (455g) whole milk
1 vanilla bean, split and scraped
115gm or ½ cup granulated sugar
30gms or 3 Tbsp cornstarch
1/4 tsp salt (if you are using unsalted butter otherwise omit this)
4 large free-range egg yolks
30gms or 2 Tbsp butter
Profiteroles:
120ml milk
120ml water
115gm butter
3 large free-range eggs (whole)
145gms flour (cake or all-purpose)
To assemble the wreath:
¼–1/2 cup whipped cream (optional)
2 cups of fresh cherries
Icing sugar for dusting
Sprigs of fresh rosemary dusted in icing sugar for garnish
Cherry icing glaze: (optional):
150gms icing sugar
105gms cherry preserve or jam