Best Thanksgiving Turkey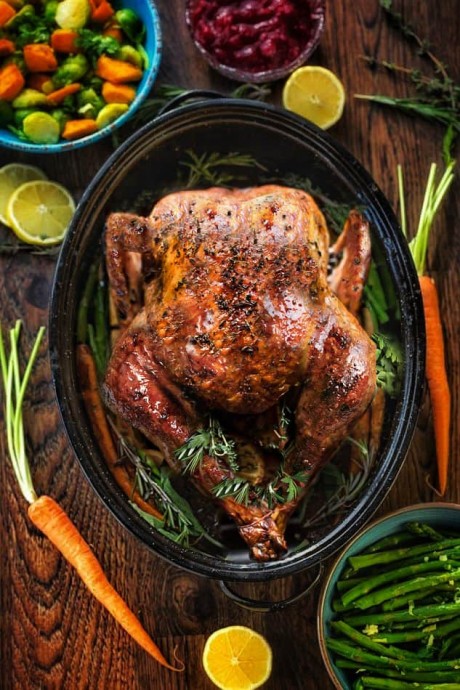 A big Thanksgiving holiday dinner just wouldn't be the same without a whole roasted turkey on the table. So you may be wondering with all the turkey recipes out there, should you brine, smoke, no brine, dry rub? This oven roasted turkey recipe is actually super easy and is brine free. Instead, we're going to use a garlic herb compound butter and cooks up deliciously flavorful, tender, juicy, moist and always has everyone raving at our house!
Plus, it's gluten free, low carb, keto friendly and perfect for Thanksgiving, Christmas or any holiday gathering. And, for a Whole 30 and paleo friendly version, you can simply swap out the butter with ghee. Who doesn't want to make the best moist and juicy turkey for Thanksgiving? Discover some tips and tricks on how to make the best go-to turkey recipe for Thanksgiving dinner. Following these tips and tricks will help you to achieve the best juicy roast turkey on the big day. You don't even need an expensive roasting pan. I'm convinced that this recipe is not only the simplest way to cook a Thanksgiving turkey, it also yields a gorgeous, super juicy, perfectly cooked turkey. The real KEY to baking a perfect Thanksgiving Turkey is not to overcook it–that's what dries out the meat, and you want to carve into a juicy, moist turkey on Thanksgiving! So, just plan ahead to get the timing right.
Ingredients:
1 12-14 pound whole turkey, giblets + neck removed, rinsed + patted dry
6 fresh sage leaves, divided
5 fresh thyme sprigs, divided
2 sprigs fresh rosemary
3 medium onions, cut into wedges
5 medium carrots, cut into 2" inch pieces
4 celery ribs, cut into 2" inch pieces
1 lemon, halved
4 cups low-sodium chicken broth or homemade chicken stock
Garlic Herb Butter:
3/4 cup unsalted butter, at room temperature
1-1/2 Tablespoons chopped fresh rosemary
1-1/2 Tablespoons chopped fresh sage
1-1/2 Tablespoons chopped fresh thyme leaves
1 Tablespoon chopped fresh parsley
5 cloves garlic minced
2-3 teaspoons sea salt
1 teaspoon black pepper