Gluten Free Garlic Breadsticks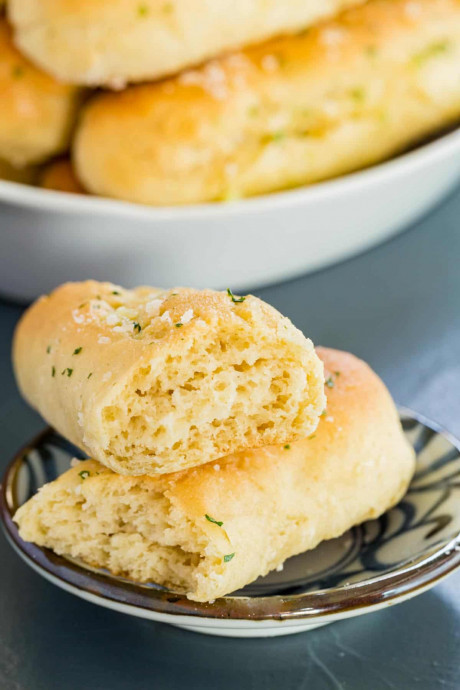 The only way to complete your favorite Italian meals is with a basket of Gluten Free Garlic Breadsticks. Soft and fluffy, and baked till perfectly golden brown, each one is then slathered with garlic butter to make them irresistible. Use them to scoop up any sauce left in your dish or serve with a bowl of marinara sauce for a tasty appetizer!
Soft and golden, and coated in garlic butter – it was nearly impossible to get through a meal without asking for more.
Even if you didn't frequent this fast-casual restaurant, you still might miss the days of finishing a bowl of pasta, then running some garlic bread through the sauce that was left in the bottom in order to wipe it clean.
You can have that joy again! So go ahead and boil your favorite gluten free pasta, get some sauce simmering on the stove, and let's get down to business making some light, chewy, buttery Gluten Free Garlic Breadsticks.
Ingredients:
For the breadsticks
2/3 cup warm water, 90-110°F
1 1/2 Tablespoon active dry yeast
2 Tablespoons brown sugar
2 cups 1-to-1 gluten-free flour (I used King Arthur Measure for Measure)
1 teaspoon kosher salt
1/2 teaspoon gluten free baking powder
1 teaspoon xanthan gum
1 egg
1/3 cup melted butter
1 teaspoon white vinegar or lemon juice
For the garlic butter
3 Tablespoons unsalted butter
2 garlic cloves, finely minced
1 Tablespoon minced fresh parsley
2 Tablespoons grated parmesan cheese, optional