Honey & almond Hasselback butternut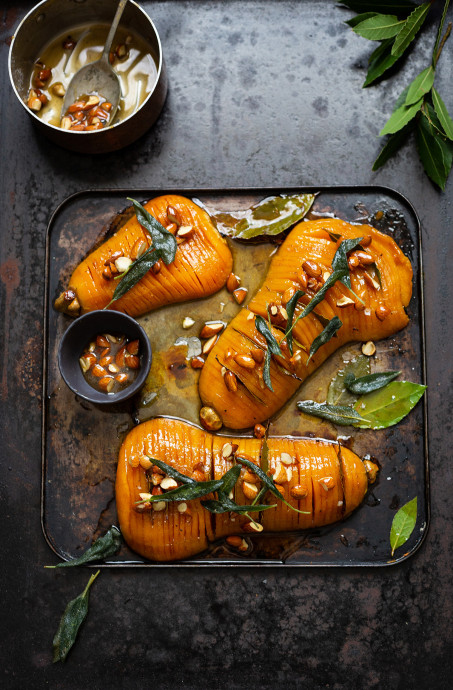 This honey and almond Hasselback butternut recipe is basted with brown butter and adorned with roasted almonds and fried sage leaves. It's a deliciously impressive, sweet, and savoury vegetarian centerpiece that will make a festive side dish for any roast. Peels – South Africa's oldest honey producer makes the most incredible range of single nectar honey along with a wide range of honey-related products. Honey is one of the top 3 most faked foods in the world and knowing that it comes from a reputable supplier protects you against this. I chose their Macadamia honey for this recipe to tie in with the almond topping.
It is perfectly normal for good-quality honey to be thicker and cloudy. This. is called crystallization. The best way to re-liquify your honey is to place the jar in a bowl of hot water and stir it gently. Avoid placing it in a pot of boiling water on the stove or in the microwave as this can overheat it very quickly.
Ingredients:
1 Large butternut or 2 small-medium butternuts peeled, and seeds removed
Olive oil
50gms butter
10 – 15 sage leaves
6 bay leaves (optional)
½ cup Peels Macadamia honey
2 tsp Dijon mustard
2 tsp sherry vinegar (or red wine)
½ cup of roasted almonds, chopped